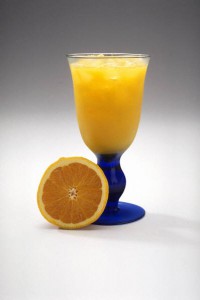 Nearly half a century after Nobel Prize-winning chemist Linus Pauling suggested that large doses of vitamin C (ascorbate) could be effective in preventing and treating cancer, a new study indicates that vitamin C may indeed be a valuable alternative cancer treatment. In a study recently published in the journal Science Translational Medicine, researchers at the University of Kansas Medical Center found that intravenous administration of high doses of vitamin C increased the cancer-killing effectiveness of chemotherapy drugs in mice and significantly decreased chemotherapy's toxic side effects in people.
The recent research would seem to vindicate Pauling's claims about vitamin C which were largely discredited by practitioners of Western medicine in the 1970s when they were unable to document Pauling's claims in clinical trials.
"There's been a bias since the late 1970s that vitamin C cancer treatment is worthless and a waste of time. We're overcoming that old bias," study co-author Dr. Jeanne Drisko, director of integrative medicine at the University of Kansas Medical Center, told the Los Angeles Times.
The difference in results between previous studies and the latest research may lay in the method of delivering vitamin C. In studies conducted in the 1970s patients took vitamin C orally in pill form. University of Kansas researchers administered the vitamin intravenously.
"When you swallow a pill or eat an orange, vitamin C is absorbed at a certain rate by the gut and excreted very quickly by the kidneys, Drisko explained. "But when you give it intravenously, you override that. Plasma levels can get very high."
The new development is one more example of alternative cancer treatments that were not "wrong," just ahead of their time!