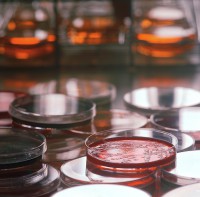 Despite recent advancements in cancer treatments, hepatocellular carcinoma (HCC) is one of only a few forms that has seen a steady increase in occurrences over the past few years. Scientists have identified a significant difference in this form that could hold the key to reversing that trend.
What is HCC?
HCC is the most common form of liver cancer. Close to 750,000 new cases are reported worldwide each year and it ranks as the third leading cause of cancer-related deaths. In addition, large numbers of patients develop metastases or suffer from reoccurrence of the tumors.
HCC's Link to Liver Diseases
While most cancers arise within relatively healthy tissues, HCC most frequently develops in livers that are chronically diseased due to hepatitis, inflammation or cirrhosis. This hepatitis-B virus (HBV)-associated HCC creates a microenvironment that contributes toward tumor growth.
Three scientists from the United States and China teamed up for a report on the topic that was published in the Beijing-based National Science Review. The article is a summary of the complex interaction in the HBV-associated HCC microenvironment and how it impacts the onset, progression and metastasis of the cancer.
What Does the Future Hold?
HBV in effect acts as a traffic cop for the intricate network of cells that make up the microenvironment. Scientists are encouraged that this function can be harnessed to help create a more effective treatment for HCC.
Many of the patients receiving our alternative cancer treatment have experienced remission of liver cancer as well as several other forms. Please contact us for more information about the Issels® difference.