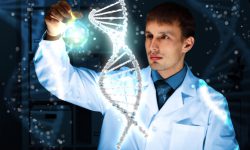 One of the highlights of immunotherapy for cancer is that the protocols are personally tailored to address your individual needs. A research team at the University of Michigan recently developed a way to customize cancer vaccines that holds promise for both current treatment and long-term immunity.
"Training" the Immune System
Immunotherapy for cancer focuses on helping your own immune system battle cancer cells. The vaccine created by the University of Michigan team uses synthetic high-density lipoproteins called nanodiscs to train the immune system to recognize and attack cancer cells.
Nanodiscs use patient-specific genetic mutations, or tumor neoantigens, to trigger production of T-cells by the immune system. The T-cells then use the genetic material in the nanodiscs to target the cancer cells.
The study involved treating mice suffering from melanoma and colon cancer with a combination of checkpoint inhibitors and the nanodisc vaccine. Not only were most of the tumors eliminated, the mice remained tumor-free after the same cancer cells were reintroduced into their systems after 70 days.
University of Michigan Goes All-In on Nanodisc Research
Encouraged by the results of the test, the University of Michigan has created a biotech company named EVOQ Therapeutics to concentrate on developing and refining the nanodisc vaccine. Plans are to conduct further studies on animals before moving into clinical trials.
Issels®: Blazing the Immunotherapy for Cancer Trail
Cancer vaccines are just one of the innovative non-toxic treatments we employ at Issels®. Visit our website to learn more about our specialized testing methods and individualized integrative programs.