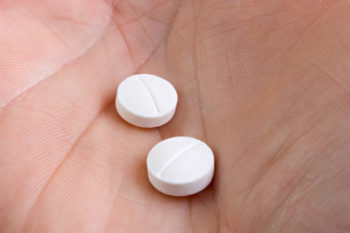 Could aspirin become a powerful weapon in immunotherapy for cancer? Researchers have found evidence that a daily regimen of low-dose aspirin may lower the mortality rate of cancer patients.
An Aspirin a Day
Aspirin is an anti-inflammatory drug that has been used as a pain reliever since the days of ancient Egyptians. In early April, attendees at the American Association for Cancer Research meeting in Washington, D.C. learned why aspirin also holds promise for treating cancer patients.
Yin Cao, an instructor at Massachusetts General Hospital and Harvard Medical School, reviewed data from long-term health studies involving both men and women. While the overall risk of death was lower for individuals who took a daily dose of aspirin, Cao found that the risk of dying from cancer was 7 percent lower in women and 15 percent lower in men.
The connection was most dramatic with colorectal cancer, as women had a 31 percent lower risk and men's risk was 30 percent lower. Significant reductions were also found among women with breast cancer and men with prostate or lung cancer.
Is Aspirin Treatment for Everyone?
Despite the encouraging results, Cao offered a note of caution for anyone considering this course of medication. Aspirin increases risk of ulcers and gastrointestinal bleeding, so Cao emphasized the importance of consulting with your doctor before undertaking a daily program.
Issels®: Fighting Cancer and Its Causes
Our immunotherapy for cancer treatment programs go beyond eliminating tumors to helping your immune system regain its natural defense mechanisms. Contact us to learn more about cancer vaccines and our other personally tailored integrative programs.