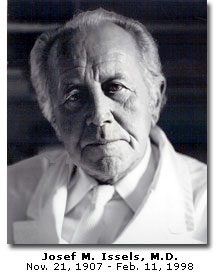 "Every second of every day, a man, woman or child dies of cancer." That is the opening line of Cancer: A Second Opinion, written by Dr. Josef M. Issels, founder and namesake of our immunotherapy for cancer clinic. It also sums up why he felt the need to share his valuable work with the rest of the world.
"A General Disease of the Whole Body"
The medical community has traditionally viewed cancer as a localized disease and focused treatment on the tumor itself. Dr. Issels put forth the idea that cancer is actually the symptom of a generalized disease affecting the entire body.
This concept formed the basis of Dr. Issels' groundbreaking work developing integrative immunotherapy for cancer treatments. While acknowledging that methods such as surgery and radiotherapy are necessary tools, Dr. Issels focused on treatments that fight the cause of cancer by boosting the immune system, the body's natural line of defense.
The Public Responds
Cancer: A Second Opinion has achieved a five-star rating on Amazon. Here's what some readers had to say in their reviews:
"Perhaps the most important book written on cancer in the twentieth century."
"This book is for fighters."
"When confronted with cancer I wanted to read more, and this was a great book for info. Would suggest it to anyone dealing with this."
Issels®: A Pioneer in Immunotherapy for Cancer
Cancer vaccines, NK cells and hyperthermia are some of the non-toxic, innovative treatments used at our Issels® clinic. Visit our website to learn more about Dr. Issels and how we are carrying his legacy forward.