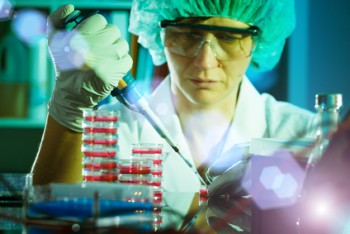 One of the benefits of immunotherapy for cancer is that it doesn't carry the same debilitating side effects as more traditional treatments. Researchers in Australia made a significant breakthrough in the field with its work on "designer molecules" that inhibit growth of cancer cells.
Stopping Cancer at "Ground Zero"
The study, conducted by a multi-disciplinary team from the University of Adelaide, involved a protein called proliferating cell nuclear antigen (PCNA). PCNA's donut-like shape lets DNA slide through its center, where it is then replicated.
As explained by project leader Dr. John Bruning, while PCNA is required for DNA replication, it's overexpressed in 90 percent of all cancers. The team set out to find a way to target PCNA, thereby preventing cancer cells from multiplying.
Creating a Barrier to Cancer Cell Proliferation
Bruning's team successfully created a drug-like molecule using a protein that naturally interacts with PCNA. They were also able to change the chemistry to keep it from degrading as it does in its natural form.
PCNA rarely mutates, making it less likely to develop resistance against the "designer molecule," which has demonstrated greater effectiveness than previous forms of PCNA inhibitors with less chance of side effects.
According to Bruning, the use of a natural protein in the creation of the molecule allows for more precise targeting of PCNA. Bruning is hopeful that his team's work will usher in the development of a whole new class of drugs.
Immunotherapy for Cancer at Issels®: Using the Body's Own Resources
Our immunotherapy for cancer programs boost the ability of the body's immune system to fight tumors. Visit our website to learn more.