John Anderson Report to the BBC
John Anderson, M.D. provided the following report to the British Broadcasting Corporation (BBC), London.

John Anderson, M.D. Report to the BBC About the Issels Treatment for Cancer
John Anderson, M.D., Teaching Professor, head and chairman of the Department of Medicine at King's College Hospital Medical School, University of London, provided the following report to the British Broadcasting Corporation (BBC), London, for the TV documentary in the Tomorrow's World series on Dr. Issels Treatment and Hospital in Germany.
Download the PDF document, the transcribed text is available below.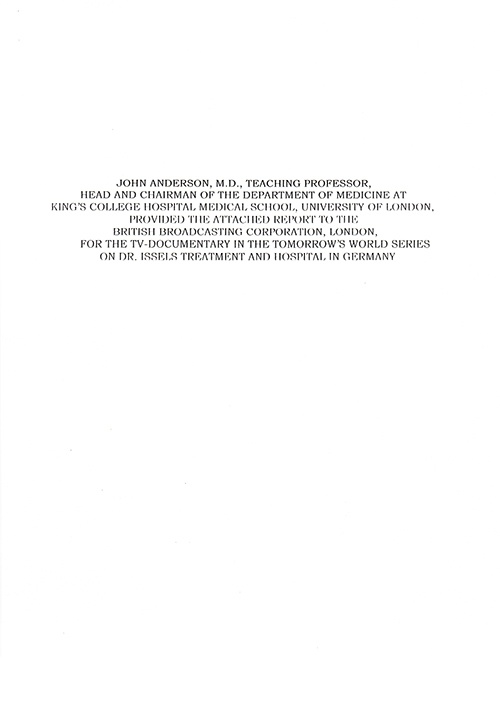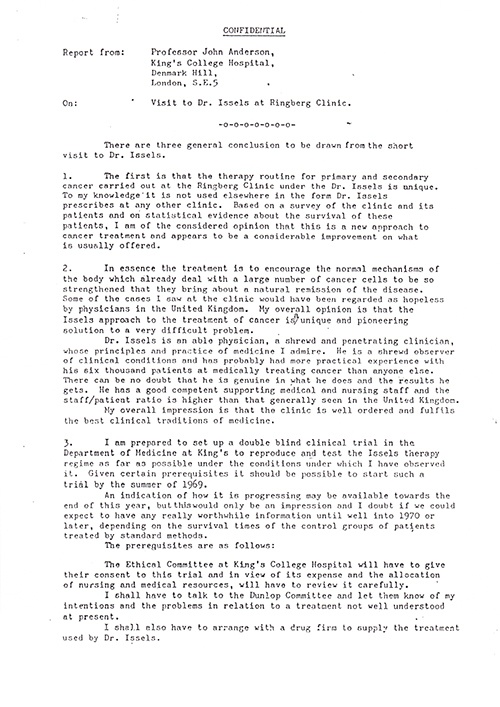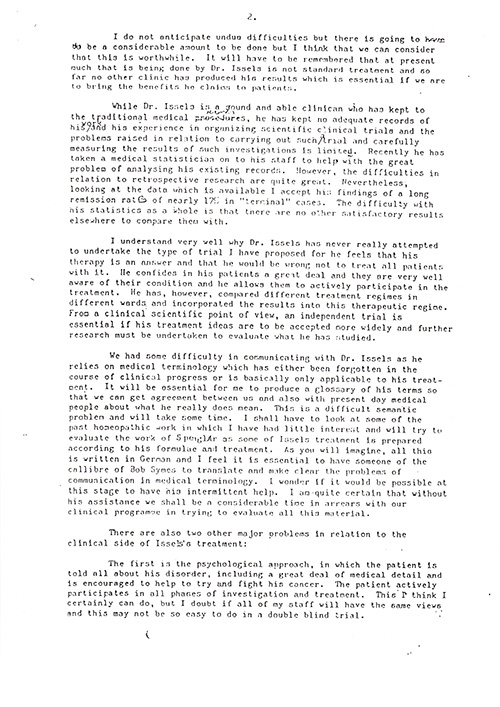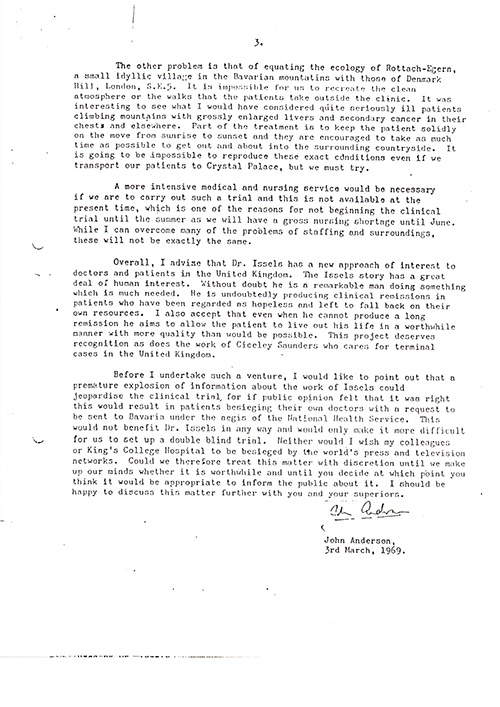 Transcribed Text(English)
John Anderson, M.D., Teaching Professor, Head And Chairman Of The Department Of Medicine At King's College Hospital Medical School, University Of London, Provided The Attached Report To The British Broadcasting Corporation, London For The Tv-Documentary In The Tomorrow's World Series On Dr. Issels Treatment And Hospital In Germany.
Report from: Professor ?John ?Anderson,
King's?College Hospital,
Denmark ?Hill,
London, S.E.5
On: Visit to Dr. Issels at Ringberg Clinic.
---
There are three general conclusion to be drawn from the short visit to Dr. Issels.
1. The first is that the therapy routine for primary and secondary cancer carried out at the Ringberg Clinic under the Dr. Issels is unique. To my? knowledge it is not used elsewhere in the form Dr. Issels prescribes at any other clinic. Based on a survey of the clinic and its patients and on statistical evidence about the survival of these patients, I am of the considered opinion that this is a new approach to cancer treatment and appears to be a considerable improvement on what is usually offered.
2. In essence the treatment is to encourage the normal mechanisms of the body which already deal with a large number of cancer cells to be so strengthened that they bring about a natural remission of the disease. Some of the cases I saw at the clinic would have been regarded as hopeless by physicians in the United Kingdom. My overall opinion is that the Issels approach to the treatment of cancer is ?a unique and pioneering solution to a very difficult problem.
Dr. Issels is an able physician, a shrewd and penetrating clinician, whose principles and practice of medicine I admire. ?He is a shrewd observer of clinical conditions and has probably had more practical experience with his six thousand patients at medically treating cancer than anyone else. There can be no doubt that he is genuine in what he does and the results he gets. He has a good competent supporting medical and nursing staff and the staff/patient ratio is higher than that generally seen in the United Kingdom.
My overall impression is that the clinic is well ordered and fulfils the best clinical traditions of medicine.
3. I am prepared to set up a double blind clinical trial in the Department of Medicine at King?s to reproduce and test the Issels therapy regime as far as possible under the conditions under which I have observed it.? Given certain prerequisites it should be possible to start such a trial by the summer of 1969.
An indication of how it is progressing may be available towards the end of this year, but this would only be an impression and I doubt if we could expect to have any really worthwhile information until well into 1970 or later, depending on the survival times of the control groups of patients treated by standard methods.
The prerequisites are as follows:
The Ethical Committee at King's College Hospital will have to give their consent to this trial and in view of its expense and the allocation of nursing and medical resources, will have to review it carefully.
I shall have to talk to the Dunlop Committee and let them know of my intentions and the problems in relation to a treatment not well understood at present.
I shall also have to arrange with a drug firm to supply the treatment used by Dr. Issels.
I do not anticipate undue difficulties but there is going to be a considerable amount to be done but I think that we can consider this is worthwhile. It will have to be remembered that at present much that is being done by Dr. Issels is not standard treatment and so far no other clinic has produced his results which is essential if we are to bring the benefits he claims to patients.
While Dr. Issels is a sound and able clinician who has kept to the traditional medical procedures, he has kept no adequate records of his work and his experience in organizing scientific clinical trials and the problems raised in relation to carrying out such a trial and carefully measuring the results of such investigations is limited. Recently he has taken a medical statistician on to his staff to help with the great problem of analyzing his existing records. However, the difficulties in relation to retrospective research are quite great. Nevertheless, looking at the data which is available I accept his findings of a long remission rate of nearly 17% in ?terminal? cases. The difficulty with his statistics as a whole is that there are no other satisfactory results elsewhere to compare them with.
I understand every well why Dr. Issels has never really attempted to undertake the type of trial I have proposed for he feels that his therapy is an answer and that he would be wrong not to treat all patients with it. He confides in his patients a great deal and they are very well aware of their condition and he allows them to actively participate in the treatment. He has, however, compared different treatment programs in different wards and incorporated the results into this therapeutic regime. From a clinical point of view, an independent trial is essential if his treatment ideas are to be accepted more widely and further research must be undertaken to evaluate what he has studied.
We had some difficulty in communication with Dr. Issels as he relies on medical terminology which has either been forgotten in the course of clinical progress or is basically only applicable to his treatment. It will be essential for me to produce a glossary of his terms so that we can get agreement between us and also with present day medical people about what he really does mean. This is a difficult semantic problem and will take some time. I shall have to look at some of the past homeopathic work in which I have had little interest and will try to evaluate the work of Spengler as some of Issels treatment is prepared according to his formulae and treatment. As you will imagine, all this is written in German and I feel it is essential to have someone of the caliber of Bob Symes to translate and make clear the problems of communication in medical terminology. I wonder if it would be possible at this stage to have his intermittent help. I am quite certain that without? his assistance we shall be a considerable time in arrears with our clinical program in trying to evaluate all this material.
There are also two other major problems in relation to the clinical side of Issels?s treatment:
The first is the psychological approach, in which the patient is told all about his disorder, including a great deal of medical detail and is encouraged to help to try and fight his cancer. The patient actively participates in all phases of investigation and treatment. This I think I certainly can do, but I doubt if all of my staff will have the same views and this may not be so easy to do in a double blind trial.
The other problem is that of equating the ecology of Rottach-Egern, a small idyllic village in the Bavarian mountains with those of Denmark Hill, London, S.E.5. It is impossible for us to recreate the clean atmosphere or the walks that the patients take outside the clinic. It was interesting to see what I would have considered quite seriously ill patients climbing mountains with grossly enlarged livers and secondary cancer in their chest and elsewhere. Part of the treatment is to keep the patient solidly on the move from sunrise to sunset and they are encouraged to take as much time as possible to get out and about into the surrounding countryside. It is going to be impossible to reproduce these exact conditions even if we transport our patients to Crystal Palace, but we must try.
A more intensive medical and nursing service would be necessary if we are to carry out such a trial and this is not available at the present time, which is one of the reasons for not beginning the clinical trial until the summer as we will have a gross nursing shortage until June. While I can overcome many of the problems of staffing and surroundings, these will not be exactly the same.
Overall, I advise that Dr. Issels has a new approach of interest to doctors and patients in the United Kingdom. The Issels story has a great deal of human interest. Without doubt he is a remarkable man doing something which is much needed. He is undoubtedly producing clinical remissions in patients who have been regarded as hopeless and left to fall back on their own resources. I also accept that even when he cannot produce a long remission he aims to allow the patient to live out his life in a worthwhile manner with more quality than would be possible. This project deserves recognition as does the work of Ciceley Saunders who cares for terminal cases in the United Kingdom.
Before I undertake such a venture, I would like to point out that a premature explosion of information about the work of Issels could jeopardize the clinical trial, for if public opinion felt that it was right this would result in patients besieging their own doctors with a request to be sent to Bavaria under the aegis of the National Health Service. This would not benefit Dr. Issels in any way and would only make it more difficult for us to set up a double blind trial. Neither would I wish my colleagues or King?s College Hospital to be besieged by the world?s press and television networks. Could we therefore treat this matter with discretion until we make up our minds whether it is worthwhile and until you decide at which point you think it would be appropriate to inform the public about it. I should be happy discuss this matter further with you and your superiors.
John Anderson
3rd March, 1969.