The Issels Cancer Treatment Center in Mexico ‐ What to Expect
If you are thinking of having cancer treatment at the Issels Medical Center in Tijuana, Mexico, here are comments from patients that will help you know what to expect.

The Issels Treatment Experience at the World-Class Hospital in Tijuana, Mexico
If you are thinking of having cancer treatment at the Issels Medical Center in Tijuana, Mexico, here are several experiences written by patients and their companions so you will know what to expect.
Message from Henry Klop, who has been receiving the Issels Immunotherapy for his Gastrointestinal Cancer [September 2019]:
September 23, 2019
Good evening Mrs. Issels,
Thank you for your email and care that you have shown to us right from the beginning of our journey. We are very touched by your interest and concern for our health.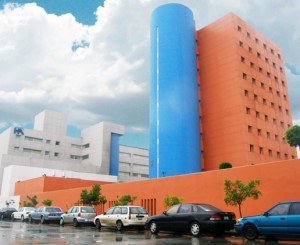 You are most welcome to use our comments, our name, and also provide our contact information to anyone confronted with the same health trial as I am dealing with. It was very valuable and comforting, when in the initial stages of our search for treatment, that your hospital sent us a list of patients that I could reach out to and speak to concerning the treatment protocol.
Just the other day, I was sharing Dr. Issels' Immunotherapy and our experience so far, and my wife Heelen commented how passionate I am about the treatments I am receiving. I am very passionate about your late husband's treatment protocol. My father died of cancer at the age of 66. When confronted with my serious diagnosis in January 2019, and greatly pressured and booked by my family doctor to undergo chemo and radiation, I had flashbacks of seeing my father after receiving his chemo treatments and how deathly ill it made him.
I made our family doctor very angry, when I very clearly and diplomatically told him that under no circumstances was I going to go for either chemo or radiation. I have seen over and over, the devastating health ramifications often resulting in death, of those undergoing this devastating chemical process.
When I think back to when I received my diagnosis in January 2019, and the pressure of the doctor during this very difficult and vulnerable time, that chemo is the only option, I can clearly see why so many patients succumb to their doctor's direction without questioning what alternative treatments there are.
Upon receiving our diagnosis, and standing firm with our doctor that we were not going to even consider chemo, and not knowing which way to go, we could only do one thing. Pray. Heelen and I prayed continually to the Lord, to guide and direct us for the treatment we were to undergo.
After a week of prayer and supplication, our prayers were answered by being guided to Dr. Issels' Immunotherapy in Tijuana. We have felt the Lord's sparing, sustaining and healing presence during this difficult journey.
We are so filled with gratitude, with the profound results we have experienced so far in our healing journey.
I have been a church organist for over 25 years, for our large congregation of over 1,200 members. Many in our congregation and community were very skeptical of our treatment decision, compounded by the fact that they were administered in a Mexican Hospital. (Many people have this ill informed / ignorant belief that Mexico is a 3rd world country not capable of effective medical treatments!) nothing could be further from the truth. The exceptional personal care, medical help, and compassion I have received is beyond words. Dr. Torres, Dr. Arce, Dr. Issels and Dr. Kim are all incredibly caring, where you feel that you are not just a number in the system, rather there is a heartfelt desire to see your health improved. This is so critical when confronted with a difficult health journey.
I am so disillusioned by our Canadian health system and my own experience in dealing with a life threatening disease. The more I learn about the intense indoctrination and compelling pressures from the medical world that chemo and radiation are the "only" means to treat cancer, the more I am compelled to get the message out that there are more effective and humane ways to treat this disease.
Heelen and I were recently attending a wedding of my niece. During dinner the person from our community that I was sitting next to, was asking about my health. He was surprised when I shared my positive results so far.
He said "Henry, when I heard back in January what you decided to do for treatments, I told my wife that you were signing your own death sentence!" The ignorance regarding alternative cancer treatments is very great. I asked him if I could share my perspective. He said yes. I shared with him, that the more I learn about the Issels Immunotherapy, the more convinced I am that this is (with the Lord's blessing) the most effective way to treat cancer. I know that there are many in our community and city that are watching me closely to see what results I am achieving. It is very interesting to note, that there are those in the medical profession that have condemned my treatment decision, including my family doctor. He is certainly aware of the positive results achieved so far, so cannot deny the effectiveness of the treatment we are receiving. People forget, when confronted with a diagnosis as we have received, that the treatment option you choose, is a very personal matter. It is also a choice, which can inflict lifelong health ramifications with the negative effects of chemo and radiation or have the fortitude to stand firm against the medical establishment to choose a treatment protocol that is proven, effective, and will not render lifelong debilitating quality of life conditions to deal with.
Mrs. Issels, I have an idea I would like to share with you. Have you thought of putting a documentary together, of Dr. Issels' Immunotherapy treatment protocol, interviewing of patients experiences with this treatment and sharing it with others? I am certainly open to being an ambassador of Dr. Issels' incredible legacy. If I reflect on the level of interest from many in our area including current cancer patients, I sincerely believe that if they were shown a documentary of the Dr. Issels Immunotherapy treatment protocol, there would be many more people choosing this over conventional methods opted for today.
Please know that we are extremely grateful to you all for all the professional, caring and effective medical help we have received. We will continue to promote and defend Dr. Issels' treatment legacy.
Our best wishes,
Henry & Heelen
PS. I did not intend to write you a book!! My passion is surfacing again!!
---
Message from David Wininger, from Ontario, Canada; 11 years after he came to Issels [April 2020]: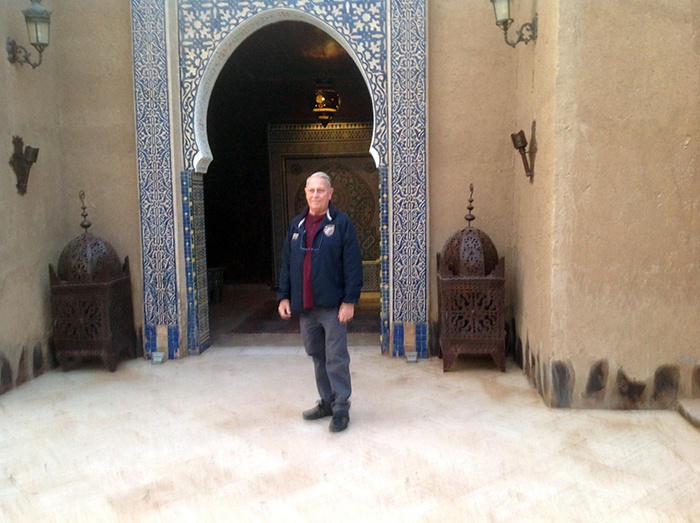 Hi Mrs. Issels, hope you are well in theses bad times. Hope all your doctors and staff are safe. My latest results again were very good. I guess God is good and certainly your help and treatments have allowed my a normal life. I think of you and your staff often.
I was thinking that if you wanted some news or proof that I am still alive and well that I would send you a picture from our most resent trip to Morocco last November. We had a great time as we traveled on a bus for a couple of weeks. Saw Mountains, dessert, Casablanca and stayed overnight at some very interesting hotels. We love to travel and had planned a river cruise on the Danube. We will probably not go because of the Coved 19 and unfortunately loose our deposit. I hope I am not boring you but I do enjoy keeping in touch. Let me know if I can do anything else.
Sincerely, Dave and Jan (2020 April 23)
Message from David, 10 years after he came to Issels [September 2019 and December 2019]:
I am doing fine and have very good support with my wife as you know. How are things at the hospital in Mexico? I know it has been a long time since I have been there but what better testimony than someone with such a good survival rate. Life is good and again it was great to hear from you. Please keep in touch. Sending all our love. Dave Wininger. 2019 September
Hello Mrs. Issels,
This year has been very eventful for us and we owe much of it to your program years ago. David enjoys a normal life, despite having prostate cancer in its 11th yr now. We are so grateful that we immediately came to Mexico for treatment upon diagnosis here in Canada. The PSA is 2.3. This past month we have been to Morocco for 2 weeks and soon we shall head to Florida for a few weeks to avoid snow for awhile. We hope this finds you well and ready to enjoy a festive Christmas season. Wishing you a very Merry Christmas and a Happy New Year!
All the best,
Jan and Dave Wininger ( Ontario, Canada) 2019 December
** David received the Issels Comprehensive Immunotherapy for Stage IV Prostate Cancer in 2009
---
From Jacinta McShane [August 2019]:
Jacinta recounts her recent visit to Issels.
MY ISSELS HEALING
I JUST KNOW TO GO!
A foreboding chasm gaps forever before me, as my oncologist's gaze darkens casting an ominous shadow over my continuing quality of life. I waiver precariously on the edge of this sharp precipice yet a determination not to get on this mortal roller coaster yet again, steadies my nerve. Time to change direction seizing this bittersweet opportunity to gain control of my cancer again.
I KNOW WHAT I NEED AND I NEED IT NOW!
How I will achieve it I do not know, how I will afford it, I haven't a clue! All I know is I need Issels non-toxic Immunotherapy now. Crucial in my mind: GO while I am strong! In that instance, my whole spirit lifts, filled with radiant hope, my weakened immune system already boosted – an endless river of hidden blessings.
Excited with a renewed energy and focus, I start... contacting my doctors at Issels, setting up a fundraising page through Yes To Life charity, talking it over with my son who just blows me away with his faith in my healing, considering travel logistics including flights, hotels, hospital stay, carefully considering who will come with me.
All big decisions but life-giving choices. All surprisingly flowing as if guided by a force way beyond me... I just KNOW to GO!!! And that "KNOWING" makes the impossible, possible.
Choosing to go alone, (which I do not advise), but do stress that it is important that you bring the right person to fully support you. This is not the time for keeping others happy. This is YOUR TIME. I fly to San Diego in the USA. As I arrive, Issels' driver Andrea welcomes me with a beaming smile. I settle into this comfy hospital shuttle and we head off to the border crossing a short distance away. We stop off briefly to pick up a couple from North America. Chatting away, before I know it, we are smoothly crossing this controversial border in the special designated hospital lane. How cool is that!
And before we know it, we arrive at the modern, prestigious Angeles hospital. Welcomed by Irene, the hospital representative, I quickly register and am guided to the fifth floor and shown into my sunny, comfortable new home for the next 5 healing days! Now the treats begin! I want it all!
AT LAST I CAN BE SICK IN PEACE!
Everything I need comes into my healing room as if by magic! I feel I am in a posh hotel not a hospital. I can let go, trusting completely in this treatment and knowing ALL OF ME will be treated with care and respect. What a glorious relief from the relentless clinical detached, disease centered approach of conventional medicine! I am here and I know it!
I CAN HEAL HERE!
The phone rings next to my bed and I smile inside as I hear Mrs. Issels distinctive tones welcoming me to Issels. I feel warm. A gentle knock at my door reveals my team of doctors or rather "healers" in my mind. Their warm smiles melt me away.
After thorough physical palpable examination by Dr.Arzola, full bloods, recent scan results and detailed discussion about my symptoms, concerns, hopes and dreams, treatment begins.
ALL THE DOCTORS AND NURSES SMILE HERE!
Day 1: Friendly, smiling nursing faces access my port expertly and simply with great attention to hygiene and my first infusion of multi-minerals starts flowing in through my veins. Ah! Much needed food for my starving body. I feel boosted already! Later that afternoon, I have my second infusion of B17 – a natural chemotherapeutic agent. I feel a little tired. After three highly nutritional meals and fresh vegetable/protein personalized juices all delivered to my room and my infusions so far, I curl up and drift off to my best sleep in ages!
Day 2: I can handle this followed by a further multi mineral infusion. My poor body so hungry for these extra minerals and vitamins. Later the hematologist comes to draw blood for making up my vaccines. Guess what! I Found my new friends in the room next door! How great is that!
OH, SO MANY HUGS!
Day 3: Another B17 Infusion and later on to my surprise, Dr. Forress suggests that I go to my favorite beach at Las Playas (17 miles away). My heart lifts at the thought and he even books a taxi to take me there and wait to bring me back! I hit the beach euphorically breathing in for my dear life! My lungs expand, my heart grows bigger and I became greater than I am. I thank God for absolutely everything I am experiencing.
Day 4: I can see my nails changing co lour and texture as I have these infusions! Later I get my LAK/NK Infusion – gosh this infusion makes all the difference in the world; I feel so well and almost immediately after receiving this with no side effects! Wow! Cancer has a covert way of sneaking up on you without you realizing and we can even get used to it. Now I realize what "being well" feels like.
Day 5: More-mineral infusions followed by a Dendritic cell injection. This is powerful as weeks later I felt my whole skeletal frame stronger and more robust. I had not fully realized I was weakening quite so much. I feel buoyant! I am very proud of myself and of all of us here at Issels.
Day 6: As I prepare to leave my Issels family, my heart feels warm as we hug and beam at each other radiantly. As my taxi leaves, I wave with a lump in my throat!
NOW FOR MY HOLIDAY JUST AROUND THE CORNER!
A short distance from the hospital, The Lucerna 4-star hotel welcomes me. How glad I am to be taking this valuable time to rest, heal and celebrate! spending time lounging by the pool, a little shopping in downtown Tijuana, strolling along my healing beach. I relax, relishing the excellent customer service provided with refreshing Mexican humility. Oh, the luxury of this vital healing time all for me!! And each day Dr Arce contacts me to see how I am doing. I feel their caring hands have stretched all the way from the hospital, not letting me go.
Smiling Andrea arrives to collect me for my final leg home. As we sweep across the border, arriving at San Diego airport, Andrea hugs me and waves me off with: "Live the good life Jacinta".
Boarding my flight "home from home", I snuggle into my seat with a deep sense of faith, love and healing.
---
From Kari Patrick on Zehtner Gay [May 2019]:
Good morning! I just wanted to give you an update on Zehntner Gay. He just had labs done, labs are good and he's doing great!!! He still gets Vitamin C infusions every other month, but he is doing so incredible! He's like... a 20 year old boy! He's currently on a fishing trip in the Keys. I could never thank ISSELS enough!!! Just wanted to give you an update and if you ever need a testimony for a patient we would be happy to tell his story. It's funny when I try to tell doctors about it, they think I'm crazy!!!
---
From Tammy H. [May 2019]:
Everyone here has gone beyond the call of duty. The food is way better and quite good. They kindly tweaked my menu and are very flexible with any changes. Victor is super nice and supportive. And explains my program in detailed. I can't say enough about Dr. Torres and the internal medicine doc whose name just slipped my mind. They are awesome! And care about our well being. I will be meeting Dr. Arce today. I think. Any how just wanted to give you an update.
Thank you for all your support and kindness. I am happy to be here!
Tammy H.
---
From Erich A., MD [May 2019]:
I am glad to tell you that my dad is doing fine. He had another dose of LAK and dendritic in Tijuana last month. His circulating tumor cell from 7 in January is now down to 0 as of his last treatment. He is doing fine. Lots of juicing and IV supplements like vitamin C.
Erich A.
---
From Marjo Woodhull [February 2019]:
I want to thank everyone on the team for taking such good care of me during my time in Mexico last week. I am in awe of the wonderful care and attention that your patients receive. Every member of your team is so considerate and professional and I truly appreciate all the wonderful treatment I have received from all of you!
Thank you so much,
Marjo Woodhull
---
From Linda Goranson [April 2017]:
Hi Dr. Issels,
Here I am just a little over a year since I spent February in Mexico and Santa Barbara. My PET scans have been clear since one month after my treatment at Issels. Yay! Coming there was one of the best decisions of my life. Today I enjoyed gardening, walking and Pilates. Steve and I are traveling just like before. Thank you for giving me my life back.
Much gratitude,
Linda
---
From Ana Rosa Peterson [March 2017]:
Dear Mrs. Issels,
Now that I have been back home for some days and have settled in, I would like to take this opportunity to thank you very much for all your help. Since the first time I spoke with you on the phone, I felt you sincerely wanted to help me and that immediately made my family and I more at ease in a most difficult time I don't have words to express my gratitude to you for allowing me to take part in your health program I wouldn't have been able to afford otherwise. The doctors and all the staff in Los Angeles Hospital were very warm and knowledgeable. Thank you.
My transition to Santa Barbara was very smooth. I had the pleasure of meeting Dr. Issels and Dr. Kim. They helped me to better understand how to monitor the cancer, what to look for, and most importantly what to do to reverse it! I am very hopeful. Some of the IV treatments in Santa Barbara were a little harder than what I thought especially because my veins were not cooperating, however the nurses were very dedicated, patient, and warm, always very ready and determined to help each one of us get what we needed. Truly, a level of professionalism I have never seen. And one I will always be grateful for.
I'm happy to say my experience with Issels was a positive and pleasant one. I was very overwhelmed and touched by all the kindness shown to me. On my family's behalf and mine I would like to express our heartfelt thanks to you, Dr. Issels, and all your wonderful staff. It is the wonderful actions of others that help us to keep going.
Sincerely,
Ana Rosa Peterson
---
Rita Possehl and Teryl Springstead talk about their experience at Issels in October 2016:
We received one pleasant surprise after another in our visit to the Issels Medical Center in Tijuana, Mexico. Here's what to expect when you go for immunotherapy for cancer treatment.
Medical Visits and Comfort: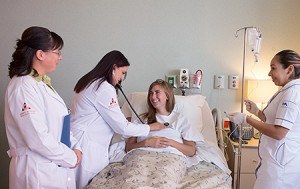 Rita and I have spent time visiting and being patients in various hospitals. Usually, all night long, nurses wake patients to check their blood pressure or check something. At the Issels Medical Center Hospital in Tijuana they come into the room around 7:30 AM or 8:00 AM in the morning to take blood pressure; they take the last blood pressure at around 9:30 PM or 10:00 PM and then leave the door shut so you can SLEEP all night long.
As you can see, food is served FREQUENTLY. Between all of the meals and snacks, and all of the friendly visits and changing of Rita's bed once day and bringing fresh towels, we also got the daily visits from Dr. Lara and sometimes Dr. Arzola Cruz (we couldn't meet with Dr. Arce because she had a cold). Sometimes these visits were more than once a day. With the visits and the other medical things that went on, we BARELY had time to go for our normal 45-minute to 1-hour walk each day. Some days we could walk for only 15 or 20 minutes.
They bring all of the bottled water you can drink.
As we left the hospital to return home, they even packed us a lunch that they were sure would not be a problem getting across the border. They were right. In many ways we felt pampered and taken care of.
Meal and Snack Information:
Here's the schedule we followed:
8:00 to 8:30 AM – Breakfast for patient and companion
11:00 AM – Protein drink for patient
1:00 to 1:30 PM – Lunch for patient and companion (usually the largest meal of the day)
4:00 PM – Snack for patient only
6:00 to 6:30 PM – Dinner for patient and companion
8:00 PM – Snack for patient
The impression we'd had was that the companion would receive standard hospital food with no choice as to what to eat. The main difference as explained to us was that the food for the patient was organized and the food for the companion was not.
Everything we ate tasted so fresh, and most of it was DELICIOUS. Evidently they get their fruit and veggies from a nearby farmers' market. We wrote several rave reviews of the food.
At first I (the companion) decided to eat a vegan diet so as not to have Rita experience envy if meat was served. The portions were small compared to what I was used to. For the first two or three days I was hungry most of the time. I had even considered ordering food from the cafeteria in the other building where the doctors have offices. But signs all over the hospital indicated that we were not allowed to bring food into the hospital, not even from there.
Between the receptionist and the translator, they arranged to add some dairy AND to make my portions larger. But what really blew our minds was that a nurse told us that, within reason, we could order food for the companion to be delivered to the room at almost any time of day! When they realized that I was still hungry they brought me wonderful mushroom sandwiches around 9:00 PM at night!
Also, we'd had the impression that the companion's food preferences would not be considered. Happily that was untrue. The nutritionist took careful notes. 95% of the time BOTH of our requests for omissions were honored.
Each dish we received was covered TIGHTLY with food wrap. That not only kept it warmer but protected it from germs. They took the time to serve the food in creative and artistic ways.
Entertainment:
The "public relations" department will lend patients DVDs to watch on their big-screen TVs. There is no charge. We borrowed two but had time to watch only one. They will also arrange outings for which one pays. We can't imagine when a patient would have TIME for outings!
Staff:
The staff was warm and friendly. But there were so MANY. We began writing down names and brief specialty descriptions. When we reached 21, we gave up keeping track. They all wear name tags and announce themselves as they walk into the room.
Leaving the Hospital Grounds:
We were nervous, at first, about walking outside the hospital grounds. But we did so nearly every day. The receptionist printed out a map and marked it with a yellow highlighter to show us where it was safe to walk. We experienced no incidents. We were surprised when crossing the street. A flashing red hand means it's OK to go ahead and walk. Some irritated motorists waved us on until we realized what was going on.
Personal Effects Storage and Room:
Storage is on one wall between the door to the room and the door to the bathroom. It's in a cluster with 3 levels.
A. High. Unless you are 6 feet 6 inches tall, don't bring much with you. They do NOT have a dresser as such. Our room had some storage cabinets that were so high we would have needed a ladder to reach them. I put our two suitcases up there but then could no longer reach the one in the back. Our receptionist told us about the clothes hanger trick for pulling it toward the front and then catching each case as it falls down.
B. Low: Three built-in storage drawers required bending over, close to the floor. Some patients may have a difficult time with that.
C. Middle height storage was limited because of the TV and DVD player.
D. NARROW closet held 8 to 10 hangers worth of clothes at the maximum. Initially our closet had only 3 hangers. We later learned that you are expected to bring one set of clothes and send the rest of your time in pajamas! But we asked a very helpful young man to bring us more hangers.
E. Next to the hospital bed is a night stand. It has a top, a small drawer, and 2 or 3 shelves inside a cabinet underneath the drawer. But they almost always have a stand with wheels in front of it for holding drips for IVs. So, it's difficult to access that night stand in the daytime.
F. At our request a helpful young man also brought us an extra rolling table, the kind they put over the patient's hospital bed. That was great. I could use it as a desk for my laptop and to hold my meals on a tray when we ate.
H. The room had a safe similar to those in hotels. We appreciated the fact that it was low enough so that someone with a wheelchair could use it. But we set a blanket on the floor and got down on our knees to use it to save our backs.
I. Cot/Sleeper Bed: when we read that there would be a cot for the companion, we were concerned. It's actually a couch with a two-layer foam pad on top. The slanted back cushions are lightweight and easy to remove. The first night we were there we kept wondering if someone would make the couch into a bed. After we asked they brought some sheets, pillows, and blanket.
Cleanliness:
My goodness that room was clean and it was cleaned and cleaned and cleaned. We were puzzled when, after a walk, we returned more than once to find that the toilet seat had been cleaned with a chlorinated solution that was left on the seat with the top down. In other words, when you lifted up that seat cover the seat itself was wet. We learned to check for that and wipe it off before sitting on the seat.
Ventilation:
Each room has individual AC, heat, and fan that occupants control. When we arrived we said, "We guess there isn't any fresh air." To our pleasant surprise there was a two-inch deep, screened opening under (yes, under) each window. The screened portion faced DOWN so no rain could fall inside the room even if the vent were left open. The weather was mostly cloudy, drizzly, and cool. We ended up using ONLY the ventilation most of the time. We loved it and knew it would also be better for our health.
The room itself was larger than we'd expected but with Spartan furnishings. There was a big recliner next to the narrow couch/bed. Other than the bed, the night stand, and the built-ins, that was it. The bathroom was surprisingly large and good-looking.
The hospital has a link on its website to the US Customs and Border patrol website. We were nervous about how the vaccine would come back into the USA. They put it in little vials. Those vials and some terrific, long-lasting blue ice go into a little red soft-cloth cooler. The cooler is about 6 inches by 6 inches by 6 inches square with a strap for carrying. The cooler sits prominently displayed in the middle of the back seat of the van that drives you across the border. NO PROBLEMS with border patrol.
The things that stand out most in our minds are the warm, friendly staff first and the wholesome, delicious food second.
We would recommend that hospital to other medical tourists.