Locations
Our Inpatient and Outpatient Treatment Facilities

Issels Non-Toxic Cancer Immunotherapy Treatment Centers
Our Issels Integrative Cancer Treatment is available in the United States and abroad. For information regarding locations, costs and/or admissions please call the numbers below.
From USA or Canada:
1-805-500-8983
From abroad:
001-805-500-8983
** Most patients who seek treatment at the Issels Medical Center in Santa Barbara have completed the Cell Therapy Program. For patients who are unable to do so for any reason, a consultation with Dr. Issels can be arranged to see if they are eligible for treatment at the Issels Medical Center. **
Our Facility Locations
Outpatient – Santa Barbara, California in the U.S.A. ** Closed in Santa Barbara and is moving to Las Vegas. It will reopen in Las Vegas in 2023. **
Outpatient – Tijuana, Mexico near the border to the U.S.A. at the treatment center.
Dr. Christian N. Issels is the founder and the head of the Issels Medical Center. Through his expertise and guidance the Issels Immunobiologic Treatment has achieved long-term remissions of a variety of advanced cancers.
At the Issels Centers, we specialize in advanced and highly individualized integrative treatment programs for patients suffering from cancer, immune disorders and degenerative diseases.
These complex diseases require a comprehensive approach, which we have developed through many years of extensive clinical experience.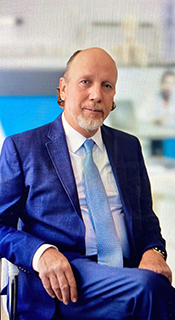 We work with experts of all standard medical specialty fields according to individual patient's needs.
"We believe it is our unique system of testing and evaluation, fine-tuned and expanded over all those years, which allows us to personalize our treatment programs to an extent that was not possible before. Our unique expertise has enabled us to recognize and repair damage to the body's complex immune and regulatory mechanisms to an unusual depth that has resulted in the positive responses of otherwise therapy-resistant cancers and immune diseases."
Dr. Christian N. Issels, ND
Dr. Grant P. Williams, MD
The Issels Medical Center is located at 1532 State Street, Second Floor, Santa Barbara, CA 93101, in close proximity to the major hospital, fitness centers, health food stores and a variety of restaurants.
Patients from out-of-town will find accommodation at discounted rates in nearby suite hotels meeting all preferences and in vacation rental apartments.
Issels Integrative Immunotherapy Program and Clinics
The Issels Integrative Immunotherapy Program is a program comprised of the highly personalized Immunotherapy administered at the Issels Medical Center in Santa Barbara, California, and the Dendritic Cell and Natural Killer Cell Therapies provided at the most modern private treatment center of Mexico, that meets the highest US and international accreditation standards. It has a prime location just across the border from San Diego, California.
Dr. Issels' comprehensive non-toxic Immunotherapy is administered with the aim of teaching all of the various levels of the body's very complex immune and defense mechanisms to recognize the cancer and fight it in order to achieve long-term remission and healing, by fundamentally rebuilding the compromised immune system.
Dr. Issels' Immunotherapy focuses not only on the cancer cells and tumors, but also decisively alters the cancer promoting internal bodily environment. His clinical experience, expertise, and guidance enable our physicians to optimize the synergistic effect of the various treatment components, and to individually adjust them when indicated to achieve the desired outcomes.
The Treatment Center in Mexico offers the Non-toxic Immunotherapy with Autologous Dendritic Cell and Natural Killer Cell Therapies
Dendritic Cell Cancer Therapy
Autologous Dendritic Cells Activated to destroy cancer cells
Natural Killer Cell Therapy and T-Cells
Autologous Natural Killer Cells and T-Cells Activated to attack cancer cells
The Dendritic Cell Cancer Therapy and Natural Killer Cell Therapy and T-Cells are prepared from the patient's own immune cells and take 10 to 12 of days of Preparation.
These non-toxic autologous cell therapies are treatment components that activate the cell-mediated immunity.
While our non-toxic Dendritic Cell, T-Cell, and Natural Killer (NK) Cell Therapies are being prepared from the patient's own immune cells the patients receive a 12 day treatment program at the treatment center.
We invite you to watch over 40 Video Testimonials and read about our patient's experiences on our Testimonials page. You can also browse our YouTube channel.
Find out more about our integrative treatments and costs now or call 1-805-500-8983.
Affordability and Qualification
During the last two decades, many cancer patients on a global basis have been facing increasing difficulties regarding insurance coverage, rising co-pay, especially for the newly approved immunotherapy drugs, loss of precious time due to lengthy approval procedures for clinical trials, and the risk of being placed into the placebo group.
In our endeavors to help cancer patients receive effective treatment, Issels Immunotherapy for Cancer has devised a geo-logistical structure that makes cutting-edge cancer treatments considerably more affordable and available in a timely manner, without patients running the risk of being placed into the placebo group or having to forego the quality of a first class internationally accredited treatment center and US based treatment facilities.
The Issels non-toxic immunotherapy with vaccine and cell therapies, as well as advanced targeted cancer therapies, are administered by experienced doctors whose expertise is reflected in the results you can witness by visiting our extensive library of patient video testimonials.