Individualized Non-Toxic Immunotherapy of Cancer
The Issels Treatment was able to reverse a variety of chronic degenerative diseases.

The Autologous Vaccine Component of the Issels Treatment
by Ilse Marie Issels Published in Explore! Volume 10, Number 2, 2001
Dr. Issels is internationally recognized for his remarkable rate of complete long-term remission of "incurable cancers" in patients who had exhausted all standard treatments (advanced cancers of the breast, uterus, prostate, colon, liver, lung, brain, sarcomas, lymphomas, and leukemias). After completion of the Issels Treatment, some of these patients remained cancer free for up to forty-five years, leading normal, healthy lives. The Issels Treatment also significantly reduced the incidence of recurrent cancer after surgery, radiation, and chemotherapy, thereby considerably improving cure rates. These results were published in peer-reviewed medical journals.
The Issels Treatment was able to reverse a variety of chronic degenerative diseases such as systemic lupus, Grave's disease, Sjoegren's Syndrome, some forms of arthritis, asthma, and others. It is a comprehensive treatment system that embraces both the disease symptoms – in the case of cancer, the tumor – and the underlying conditions that have led to the disease and which, if not corrected, will lead to recurrence.
In 1951, Dr. Josef Issels founded the first hospital specializing in the treatment of conventionally "incurable" cancer patients, subsequently treating more than 15,000 patients. Daily clinical observation of similar advanced cancers for months at a time led to new insights into the body's natural regulatory, repair and defense mechanisms, which resulted in decisive improvement of the treatment system he had developed.

In 1970, the hospital grew from 85 to 120 beds and expanded its extensive research facilities such as the microbiological, immunological and dental departments, and the hyperthermia department. Dr. Issels who had pursued research on immunological and microbiological aspects of cancer etiology since 1948, established several research departments in his hospital from its inception in 1951. Already in the early years, Dr. Issels and his co-researchers developed cancer vaccines in the laboratories on the premises. They regularly and meticulously monitored the impact of these vaccines and of the general treatment on the patient by examining live and modified gram stained blood under the darkfield microscope before, during, and after treatments. Films and hundreds of slides confirmed the results and showed changes of microbial forms when the blood plasma pH changed.
Dr. Issels developed fever charts especially for this purpose, established a thorough system of monitoring and documenting treatment results.
Starting in the 1950's, the fundament for biologic dentistry in cancer was laid in Dr. Issels' hospital where the first stages of thermography were developed as well. The dental department included a full dental laboratory. More than 100,000 administrations of Coley's Toxins or Mixed Bacterial Vaccines to induce fever were performed and studied. One of the first hyperthermia devices built by Siemens was employed in Dr. Issels' hospital as well as one of the first ultraviolet blood irradiation systems in Europe and one of the first technologies for oxygen-ozone treatment.
One important development in the history of Dr. Issels' hospital was the appointment of Dr. Franz Gerlach as Director of Research from 1958 until 1973. Dr. Gerlach, Professor of the University of Vienna, who represented Austria at the 1946 International Conference of Microbiology of Cancer, worked at the Pasteur Institute in Paris. He was a Fellow of the reputable Academy of Medicine in Paris (among other institutions), and was well known to cancer specialists all over the world for his research on mycoplasmas in cancer and chronic degenerative diseases. Thousands of mice were used for a variety of studies. For example, after cell free inoculation of mycoplasmas from cancer patients under the skin of 209 mice, 90.9% of these test animals developed all types of cancers, whereas of 600 control animals, which were not inoculated, only 0.83% developed cancer. Dr. Issels financed all these research programs spending many millions of dollars.
Recent research by reputable U.S. scientists confirms the involvement of certain mycoplasma species in cancer, the Gulf War syndrome, chronic fatigue syndrome, fibromyalgia, rheumatoid arthritis and other diseases. In 1970, the British Broadcasting Corporation in London aired a 60-minute TV documentary in its Tomorrow's World program on Dr. Issels' work. In the following years, many leading German TV stations aired programs on Dr. Issels' hospital and treatments.
From 1981 until his retirement in 1987, Dr. Issels was a member of the expert German Federal Government Commission in the Fight Against Cancer. All German insurance companies covered the treatment at Dr. Issels' hospital.
On The Vaccine
For more than a century, international researchers have precisely documented certain microorganisms in human blood, body fluids and tissues that were highly "pleomorphic," i.e., that they can appear in various developmental stages and in diverse forms maintaining their characteristics. When the host terrain deteriorates, they seem to transform from primitive structures into higher cyclogenetic structures. They appear to become pathogenic and may be causative or co-factors in the development of malignancies, various immune disorders and chronic degenerative diseases. They induce malignant changes in a high percentage of cell cultures or when transmitted into an animal host organism. Researchers have observed that higher structures can be reversed by the administration of lower structures.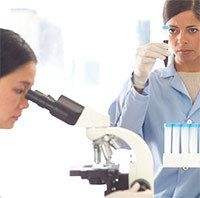 Scientists have given different names to such microorganisms. However, they have essential features in common: they are stainable, cell wall deficient, virus-like and pleomorphic. International science classified the species of microorganisms studied and reported by Franz Gerlach in his textbook and many publications as mycoplasma. He became an authority of the research on mycoplasmas in cancer.
Over the last hundred years, researchers have tried to develop vaccines against microorganisms, which seem to be causative or co-factors in the development of malignancy in an effort to help the patient's immune system fight the disease. The initial success of some of these vaccines was encouraging.
Since 1951, Dr. Issels and his coworkers have developed and administered various vaccines, of which the autologous vaccine has proven most effective. It is prepared from the patient's own blood which represents his/her unique internal microbial environment. The vaccine is customized to fulfill individual immunobiological needs. The preparation follows a procedure that favors the development of antigenic peptides and other immunogenic compounds, which act in concert to restore the body's natural defense mechanisms. Clinical research suggests that 1) the vaccine stimulates the formation and activation of T-helper cells, macrophages and natural killer cells, 2) as an antigenic fraction of autologous mycoplasma and mycoplasma-like organisms, it binds mycoplasma-specific antigens by cluster formation, 3) it exposes the cancer cells to the immune system by degrading their protective mechanisms.
During more than forty years of clinical administration, this vaccine has contributed to the retardation, cessation and remission of tumor growth in a variety of cancers, as well as to the improvement of various immune disorders. Experience has shown that its effectiveness is enhanced when it is administered within a comprehensive immunobiological treatment program as described by Josef M. Issels. M.D. in his book Cancer: A Second Opinion, Avery Publishing Group, 1999.
Potential Adverse Side Effects from the Vaccine
The vaccine is non-toxic and sterile. Since it is custom prepared from the patient's own blood, many of the systemic side effects typically associated with other cancer treatments are not experienced. A slight rise in temperature, fatigue and tenderness in the tumor area are possible for a period of six to forty-eight hours after the vaccine is administered.
Literature:
Cassell, G.H. and B.C. Cole, Mycoplasma as Agents of Human Disease, NEJM 1979, 304:2, 80-89.


Dumrese, J. and B. Haefeli, Pleomorphismus, K.F. Haug, Heidelberg, 1996.


Enderlein, G., Bakterien-Cyclogenie, Berlin 1925, and Bacteria Cyclogeny, Enderlein Enterprises, Inc., Prescott, AZ, 1999.


Gerlach, F., Krebs und obligater Pilzparasitismus, Urban und Schwarzenberg, Vienna 1948. Die Mycoplasmen-Infektion bei Geschwulstkrankheiten des Menschen und der Tiere, Krebsgeschehen 4:1-4, K.F. Haug, Heidelberg, 1972.


Participation of Mycoplasmas in Oncogenisis, Wiener Medizinische Wochenschrift, No.4, Suppl. 26, 1975.


Hess, D.J. Can Bacteria Cause Cancer? N.Y. University Press, NY, 1997.


Issels, J.M. Immunotherapy in Progressive Metastatic Cancer: A fifteen Year Survival Follow-Up, 1970, Clinical Trials Journal 7 (3): 357-366, London.


Immunotherapy in Cancer, 1997, Explore for the Professional 7 (6): 14-20. Mount Vernon, Washington.


Cancer: A Second Opinion, 1999, Avery Publishing Group, NY.


Nasralla, M., and J. Haier and G.L. Nicolson, Multiple Mycoplasmal Infections Detected in Blood of Chronic Fatigue and Fibromyalgia Syndrome Patients, 1999. Eur. J. Clinical Microbial. Infect. Diseases, 18:859-865.


Tsai, S., D.J. Wear, W. Shih, and S.C. Lo, Mycoplasmas and Oncogenisis: Persistant Infection and multistage Malignant Transformation, 1995, Proc Natl Acad Sci, USA; 92 (22): 10197-201.


v. Brehmer, W. Siphonospora Polymorpha v. Br., 1947, Linck, Haag.


Villequez, E., Le Parasitisme Latent Des Cellules Du Sang Chez L'Homme, 1955, Librairie Maloine, Paris.
Published in Explore! Volume 10, Number 2, 2001
2001 copyright by Ilse Marie Issels, President,
Issels Foundation Inc.
Reprinted with permission of Explore Publications, Inc.
318 N. Rush Street, Prescott, AZ 86301