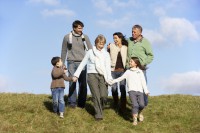 It is unfortunate that Richard Howard did not discover the benefits of integrative cancer therapy until the final year of his 10-year battle with cancer. His family credits integrative therapies with the gains that allowed him to remain with his family a while longer and the increased feelings of comfort and well-being he experienced during his final year.
There is no way to know if Mr. Howard's outcome would have been different had he embraced integrative cancer therapy sooner or obtained treatment at an experienced Center for Integrative Medicine rather than a local pilot program. What we do know is that over our more than 60-year history practicing integrative immunotherapy Issels Integrative Oncology has helped many cancer patients achieve complete long-term remission of advanced cancers and cancers that have proven resistant to standard treatment.
Mr. Howard's daughter Sara, who encouraged her father to try integrative therapies, told the Litchfield (Connecticut) County Times, "I was like, 'Dad, why not just try it?' … I researched it and saw all the beneficial things it could do. He did and it was like, 'Wow!' and opening up this door for him to a whole other side of medicine."
An engineer, Mr. Howard was at first skeptical of integrative therapies but was quickly won over by the increased comfort, sense of well-being and mobility he experienced following his first few alternative cancer therapies. The pilot program Mr. Howard participated in was limited to the integration of several Eastern medicine techniques such as acupuncture and massage; but a fully-developed, comprehensive integrative immunotherapy program can offer cancer patients a plethora of beneficial alternative cancer treatment options designed to support and enhance each other.
At Issels Integrative Oncology, we turn skeptics into believers every day. Click to hear what our patients have to say.