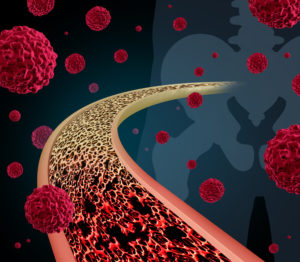 What are the types of bone cancer? Can it be treated with immunotherapy for cancer programs? July is Bone Cancer Awareness Month, making it a good time to share some facts about the disease from the National Cancer Institute.
Basics of Bone Cancer
As the name implies, bone cancer is a malignant tumor that forms in bone tissue. The majority of bone tumors are benign, which means they're non-fatal and don't spread.
On the other hand, bone cancer CAN spread to other parts of the body. Regardless of the location of the metastasis, or spread, the disease is still referred to as bone cancer based on its original site.
Types of Bone Cancer
– Osteosarcoma, usually found in the knee or upper arm, develops in hard bone tissue.
– Chondrosarcoma forms in cartilage, which is the tough but resilient tissue that cushions joints.
– The Ewing Sarcoma Family of Tumors, or ESFTs, are thought to arise from primitive nerve tissue in bone or soft tissues.
Bone Cancer Symptoms
Chronic pain or swelling in or near a bone are the most common symptoms of bone cancer, but they could also be indicative of other conditions, so it's important to be tested.
Treatments for Bone Cancer
Traditional treatments such as surgery and chemotherapy are often used with bone cancer patients. The NCI and other organizations also sponsor frequent clinical trials to investigate immunotherapy for cancer treatments.
Help for Patients with Stage IV Bone Cancer
Visit our website for testimonials from patients with metastasized bone cancer and other forms who have achieved long-term remission with immunotherapy for cancer at Issels®.