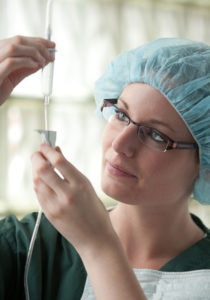 Melanoma, an aggressive form of skin cancer, has a survival rate of up to 95 percent that is reduced nearly in half by late diagnosis. An experimental blood test for melanoma showing high degrees of accuracy could make it easier for patients to receive timely cancer treatment.
Finding Clues in the Bloodstream
Antibodies are produced by the body's immune system to attack foreign substances, including cancer cells. A research team at Edith Cowan University in Western Australia conducted a study using blood samples to identify particular antibodies created in the immune response to melanoma.
The 245 test subjects included both melanoma patients and healthy volunteers. After the team identified a combination of 10 antibodies specific to the presence of melanoma, they were able to detect melanoma patients with 79 percent accuracy and healthy participants with 84 percent accuracy.
Progress in Early Cancer Detection
Professor Mel Ziman, leader of the project, said the team is proceeding on a trial with 1,000 participants to get the accuracy rate up to the required 90 percent level. Ziman projects that with a successful outcome, the test could be commercially available within five years.
While early detection makes a vital difference in successful melanoma treatment, current testing methods are costly and invasive. Scientists around the world are also making progress on blood tests to identify several types of cancer, including ovarian, lung and esophagus.
Better Testing = More Effective Cancer Treatment
Issels® uses extensive standard and genomic testing to determine the specific course of cancer treatment best suited for each patient. Visit our website for more information about our state-of-the-art diagnostic methods.