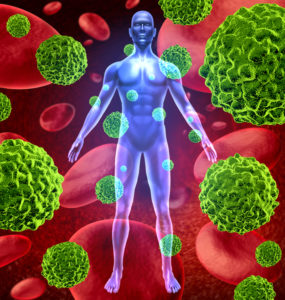 It's said that opposites attract, and scientists are hoping to use that principle to develop more effective immuno oncology treatments. Certain chemicals that are present in tumors might be used to attract cancer-fighting immune cells.
Triggering an Immune Response to Cancer Cells
In a study recently published in Cell, researchers at the Francis Krick Institute found that immune cells known as Natural Killer (NK) cells build up in tumors. These NK cells emit certain chemicals that attract special dendritic cells (cDC1), which are white blood cells that generate an immune response against tumors.
While analyzing data from more than 2,500 patients with skin, breast, lung and neck cancers, the team discovered a correlation between NK cell and cDC1 genes and cancer survival. Similar results occurred with an independent group of breast cancer patients.
Solving a Potential Roadblock
The study also revealed that prostaglandin E2 (PGE2), which is produced by some cancer cells, can suppress NK cell activity, thereby limiting the cDC1 response. One solution may be to use aspirin to block PGE2 and its negative effects.
Professor Karen Vousden of Cancer Research UK acknowledged the benefits of the study in revealing more information about the interaction between cancer and the immune system. Vousden also pointed out the importance of such work for improved immuno oncology treatments.
Personally Developed Immuno Oncology Programs at Issels®
At Issels®, we have decades of experience successfully treating patients with advanced and therapy-resistant forms of cancer. Issels® has been ahead of the curve in using programs featuring dendritic and NK cells.
Contact us to learn more about our non-toxic specialized treatments.