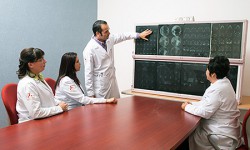 Pancreatic cancer is one of the more difficult forms to diagnose, resulting in a low survival rate. A recent study found that immunotherapy for cancer holds great promise for more effective treatment.
Current treatments for pancreatic cancer
Surgery is the best option for pancreatic cancer. Unfortunately, the tumors are often discovered too late for surgery to be feasible. Doctors are left to use chemotherapy and other methods to control the cancer.
Medical breakthrough with immunotherapy
Researchers at University of Rochester Medical Center in New York set out to find a treatment that could make pancreatic cancer more receptive to surgery. The test involved use of PF-0416309, an immunotherapy drug that targets immune cells in pancreatic tumors.
Subjects included 47 patients whose pancreatic cancer had begun to spread. Eight received chemotherapy alone, while the others received a combination of chemotherapy and the immunotherapy drug.
Most of those who received the combination experienced a halt in the tumor's growth, which was double the rate projected by the research team. Some saw their tumors shrink, while in one patient the cancer disappeared.
What's next?
Side effects forced three patients to drop out, but otherwise no one had side effects more serious than those with chemotherapy alone. The researchers now plan to extend the scope of the test with phase 2 trials.
Issels® is the leader in immunotherapy for cancer
For years, our Issels® center has been ahead of the curve on immunotherapy for cancer. Our treatment programs are created individually,
based on each patient's specific needs. Visit our website to learn more about cancer vaccines and other non-toxic immunotherapy treatments.