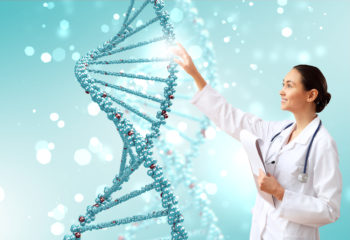 As scientists work to refine immunotherapy cancer treatment, they also look for ways to determine which patients are most likely to respond. According to a recent study, one of the answers may lie within a patient's genetics.
HLA Molecules and Intracellular Proteins
T-cells are a type of white blood cell that's part of the immune system. Human leukocyte antigen (HLA) molecules help direct T-cells towards cancer cells by binding peptides from intracellular proteins, including those found on tumor cells.
Some immunotherapy treatments that have been successful in fighting metastatic cancers focus on promoting activity of HLA-1 molecules. A research team at Memorial Sloan Kettering Cancer Center genotyped more than 1,500 advanced cancer patients to determine if HLA variants had an effect on post-treatment survival.
Do HLA Variants Affect Cancer Treatment?
Since HLA-1 molecules come in a number of different forms with several variants, the researchers speculated that those variations would influence the patients' responses to treatment. As expected, patients with greater diversity in HLA-1 molecules had a corresponding increase in survival rates.
The study also considered the correlation between somatic mutations within a cancer genome and HLA-1 variations. A higher tumor mutation burden in combination with more diverse HLA-1 molecules was linked to higher survival rates as well.
Gene-Targeted Cancer Treatment at Issels®
Advanced gene-targeted therapies are just one of the treatments available for our comprehensive and individually tailored programs. Non-toxic gene-targeted therapies attack only cancerous cells, making them less harmful to healthy tissues.
Contact us to learn more about cancer vaccines, NK cells and other treatment programs offered at Issels®.