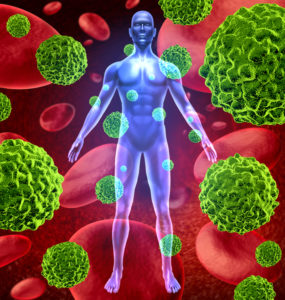 Could a clue to more effective cancer treatment be found in the biochemistry of another illness? Scientists are hopeful that the gene behind Huntington's disease could be fatal to cancer cells without harming healthy ones.
What Is Huntington's Disease?
Huntington's disease is a genetically inherited condition that destroys nerve cells in the brain. There is currently treatment but no cure for the disorder, which causes a slowly progressive decline in both cognitive and physical abilities.
The faulty gene that triggers Huntington's disease contains an excessive number of repeats of a certain sequence of nucleotides, which form the building blocks of DNA and RNA. These sequences create small interfering RNAs, which are molecules that attack specific genes crucial for cell survival.
"Assassin Molecules"
Brain cells in particular are vulnerable to the cell death caused by small interfering RNAs. Cancer cells are also highly susceptible, which is thought to be the reason why Huntington's disease patients have such a low incidence of cancer.
A research team at Northwestern University tested these so-called "assassin molecules" on human and mouse cancer cells, including brain, breast, colon and ovarian, that were grown in a laboratory. The small interfering RNAs killed all cancer cells from both humans and mice.
Researchers were encouraged that the treatment also showed no toxicity to healthy cells. Further testing is underway to find a more targeted form of delivery.
Targeted Cancer Treatment at Issels®
Our individually developed, non-toxic immunotherapy programs focus on destroying cancer cells and their environment while sparing healthy tissues. Contact us for more information about cancer vaccines and other targeted cancer treatment protocols at Issels®.