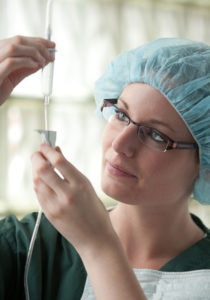 When it comes to cancer treatment, immunotherapy is a hot buzzword right now, but it may not be as new as it seems. Many scientists believe that the first immunotherapy treatments date back to the late 1800s.
Coley's Toxins: The Original Immunotherapy?
William Coley, a surgeon in turn-of-the-century New York, made a peculiar discovery about one of his patients. Fred Stein, who had been diagnosed with cancer, began making a recovery after contracting a serious infection.
Dr. Coley thought that perhaps bacteria from the infection jump-started Stein's immune system, causing it to attack the tumors. This experience inspired the doctor to begin treating inoperable cancer patients with bacterial injections that came to be known as Coley's toxins.
While Coley's treatments did achieve some success, there was little documentation to support his findings. As a result, the doctor's peers continued to favor radiation and chemotherapy as cancer treatments of choice.
A Man Ahead of His Time
For all intents and purposes, Dr. Coley's methods died with him in 1936. Now, more than 80 years later, immunotherapy cancer treatment is "here to stay," according to Jill O'Donnell-Tormey, chief executive of the Cancer Research Institute.
Immunotherapies known as checkpoint inhibitors are some of the top-selling drugs around the world. Checkpoint inhibitors follow Dr. Coley's principle of boosting the body's own immune response.
Dr. Josef M. Issels: A Pioneer of Immunotherapy
We're proud to carry on the legacy of our founder, Dr. Josef M. Issels, who was also an early proponent of immunotherapy cancer treatment. Contact Issels® for more information about our individually created immunotherapy programs.