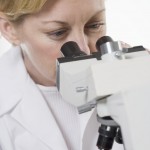 When it comes to your health, the term "bacteria" usually inspires a negative reaction. You may be surprised to learn that your body actually harbors "good" bacteria that boosts your immune system and plays a role in preventing cancer.
The Role of Gut Flora
Your body's microbiome is a network containing trillions of organisms such as bacteria, fungi and viruses. Some are positive and some are not, but they all work together to maintain a balance that keeps your system in good working condition.
In the late 1990s, scientists began to discover the crucial value of the group of organisms centered in your colon, referred to as "gut flora." Research has found that healthy gut flora contributes to a strong immune system, which is your body's first line of defense against foreign organisms that cause illness and disease.
Gut Flora and the Fight against Cancer
Cancer cells can often evade detection by your body's immune system, allowing them to grow unchecked. Traditional therapies such as radiation and chemotherapy are effective, but they end up destroying healthy cells as well.
Researchers from the University of Chicago, encouraged by positive results from testing on mice, included gut flora as part of integrative immunotherapy treatments. The successful results were comparable to the beneficial effects of anti-cancer drugs.
State-of-the-Art Integrative Immunotherapy at Issels®
Integrative immunotherapy programs used at Issels® are focused on harnessing your body's own natural defenses to destroy cancer cells. Visit our website to learn more about our cancer vaccines, immune enhancement protocols and other personalized non-toxic treatments.