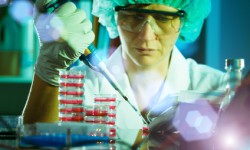 With a five-year survival rate of only three percent, pancreatic cancer is one of the more difficult types of cancer to treat. Scientists from Cancer Research UK, in collaboration with scientists from pharmaceutical giant AstraZeneca, recently announced their discovery of a promising method to help defeat these tumors.
Pancreatic Cancer's "Stealth Attack"
The immune system is your body's first line of defense against cancer cells and other foreign bodies that threaten your health. In the case of pancreatic cancer, once the cells make it past the initial gauntlet, they move on to hijack parts of the immune system to facilitate their growth.
The UK study, published in Cancer Cell, reported the team's discovery of CXCR2, which is a protein that serves as the gatekeeper for pancreatic tumors, guarding them from attack by immune cells. Use of an experimental drug that blocks CXCR2 allowed T-cells to enter the tumor, making it more vulnerable to treatment.
Immunotherapy for Pancreatic Cancer
Until now, the shielding process has made pancreatic cancer particularly resistant to immunotherapy. Professor Peter Johnson, chief clinician at Cancer Research UK, said their study suggests that using the new drug in concert with immunotherapy treatments could create "a powerful weapon" in the fight against pancreatic cancer.
Using the Body's Natural Defenses to Defeat Cancer
For more than 60 years, our Issels® center has been the leader in the use of immunotherapy for pancreatic cancer and many other types. Contact us today for more information about our personalized non-toxic treatments, including cancer vaccines, hyperthermia and gene-targeted therapies.