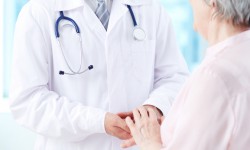 For many patients with difficult-to-treat tumors, immunotherapy for cancer has successfully expanded their previously limited options. According to a study recently presented at the American Society of Clinical Oncology conference, a new immunotherapy drug has shown promise for treatment of advanced bladder cancer.
The Power of Checkpoint Inhibitors
Researchers speaking at the ASCO conference in Chicago last June reported on the results of clinical trials for atezolizumab, marketed under the name Tecentriq. Atezolizumab is one of a growing number of treatments referred to as checkpoint inhibitors.
Cancer cells often get a foothold by flying under the radar of immune cells, which are your body's main line of defense against bacteria, viruses and other "invaders." Checkpoint inhibitors target a molecule called PD-L1, thereby releasing immune cells to attack and kill the rogue cancer cells.
Tumors with "High Mutational Burden" Respond to Immunotherapy
A follow-up analysis to the bladder cancer trials indicated that tumors with a "high mutational burden," which refers to the number of genetic faults in the cells, appear to be more receptive to immunotherapy. Dr. Jonathan Rosenburg of the Memorial Sloan Kettering Cancer Center in NYC explained that it was made easier for the immune system to identify the mutated cells in such tumors.
Issels®: A Leader in Immunotherapy for Cancer
Our state-of-the-art non-toxic immunotherapy treatments have been used successfully on patients with all forms of cancer, including bladder, breast and melanoma. Visit our website to learn more about our cancer vaccines, gene-targeted therapies and other protocols individually designed to address your specific needs.