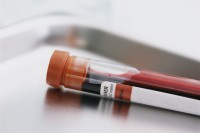 Cancer researchers and physicians involved in clinical trials are calling a new immunotherapy treatment for cancer "a breakthrough." Patients are calling it "a miracle." A form of immunotherapy, the new cancer treatment is called immune-checkpoint blockade. An advanced targeted cancer therapy, the treatment uses chemically produced monoclonal antibodies to target specific molecules on cell surfaces. The antibodies clear roadblocks created by the cancer cells themselves that can hinder the immune system's natural ability to protect itself. With roadblocks removed, immune system cells are free to attack and annihilate cancer cells. The results have been impressive and appear to be long-term.
"Research activity is just going through the roof," Johns Hopkins University cancer immunologist Suzanne Topalian told the Washington Post, noting that the therapy is being tested on melanoma, lung and kidney cancers with smaller trials on a laundry list of other cancers. In five years, many immunologists expect checkpoint inhibitors and other immunotherapy treatments to be used as primary cancer treatments for the majority of advanced cancer cases diagnosed in the U.S. That would be a considerable and welcome departure from American medicine's current dependency on surgery, chemotherapy and radiation.
Immune-checkpoint blockade has startling similarities to the integrative immunotherapy that has been practiced at Issels Integrative Oncology Centers for decades. However, where the new technique uses chemically engineered antibodies, Issels' integrative immunotherapy is completely non-toxic, using autologous vaccines prepared from the patient's own blood to enhance the natural immune system response of cytokines, natural killer cells, LAK cells and T-cells. (Click the link for an explanation of how these immune factors interact.)
At Issels alternative cancer treatment centers we have been practicing integrative immunotherapy for more than 60 years, so it is naturally gratifying to see Western medicine walking in our footsteps.