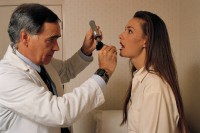 Lung cancer is the deadliest cancer in the U.S., killing more people than the next three most common cancers – colon, breast and prostate – combined. According to the American Lung Association, more than a quarter million new cases of lung cancer are diagnosed in the U.S. every year. The difficulty of detecting lung cancer in its early stages and the invasiveness and cost of current diagnostic tests contribute to the deadliness of this devastating disease.
When lung cancer is not discovered and spreads to other organs, the five-year survival rate is just 4%, compared to 54% when lung cancer is detected and treated while still confined to the lungs. Discovery of a simple breath test that could lead to a new, non-invasive diagnostic test for lung cancer has the potential to increase lung cancer survival rates in the not so distant future. Scientists at the University of Louisville in Kentucky believe they can turn their discovery into a publicly available diagnostic test within five years, according to USA Today.
Expensive CT scans and invasive biopsies are currently considered the most effective means of diagnosing lung cancer. However, in recent tests Louisville researchers found elevated levels of four specific compounds in exhaled breath to be remarkably accurate in detecting the presence of lung cancer. The presence of elevated levels of just two of the four compounds was predictive of lung cancer in two-thirds of the patients studied. The absence of elevated compounds was also shown to accurately indicate that a mass in the lungs was benign. If brought to market, the simplicity and low cost of the breath test could lead to earlier and more successful treatment of lung cancer.
Integrative immunotherapy has shown to be effective for many lung cancer patients. Find out more on our website.