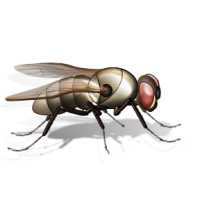 We found some interesting parallels between the Issels approach to alternative cancer treatment and an unusual cancer experiment using fruit flies that was recently reported on CBS Sunday Morning. The experiment is a last-ditch attempt by an Atlanta businessman to beat medullary thyroid cancer, a rare, deadly and extremely aggressive form of thyroid cancer.
Mark Beeninga has been fighting cancer for 13 years. His tumor has proved resistant to standard treatments, returning after bouts of surgery, chemotherapy, radiation and clinical trials. After years spent searching for new treatments, Mark has enlisted the aid of a fruit fly geneticist to develop an individualized cancer treatment designed to work on Mark and Mark alone.
Individualized cancer treatments aren't new. Issels Integrative Oncology has a rich history of individualized immunotherapy cancer treatments that stretches over more than 60 years. It is only relatively recently that Western medicine has begun to explore beyond its traditional one-size-fits-all approach to cancer treatment. Dr. Otis Brawley, chief medical officer of the American Cancer Society, told CBS that personalized cancer care specifically tailored to the individual shows the "greatest promise" for winning the war against cancer.
Mark and fruit fly geneticist Ross Cagan may be taking individualized care to a new extreme. Cagan has engineered a fruit fly that is a near genetic duplicate of Mark, replicating not only his tumor, but also his diabetes and other health issues. The purpose is to bombard the fly with different treatments to find something that will kill Mark's specific tumor.
The approach is not unlike our commitment to creating highly personalized cancer treatment protocols designed to meet the specific needs of each individual patient. Mark is still waiting on results, but Issels' approach has already proven successful for many patients.