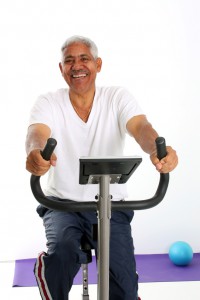 Exercise could be the "magic pill" we've all been looking for that not only thwarts the growing incidence of chronic diseases but wards off cancer. Vital to good health, physical activity offers the mind and body a panacea of healthy benefits. Exercise promotes a healthy immune system, enhances positive mind-body connection, reduces stress and aids in weight control. Regular physical activity has also been strongly linked to both cancer prevention and reduced cancer recurrence among cancer survivors.
The importance of exercise in preventing obesity appears to be the key to its importance in preventing disease and maintaining a healthy body. As CBS News recently reported in a 2-part series on the connections between cancer and exercise, decreasing your obesity risk can reduce your risk of developing a life-threatening cancer.
Not only have the Centers for Disease Control and Prevention linked obesity, which affects more than a third of U.S. adults, to increased incidence of chronic disease, including heart disease, high blood pressure, stroke, Type 2 diabetes and cancer; but the National Cancer Institute  has linked obesity to increased risk of specific cancers, including cancers of the esophagus, endometrium, pancreas, colon, rectum, kidney, thyroid, gall bladder and post-menopausal breast cancer.
Why does obesity have such a profound affect on our health? Obesity appears to cause significant disruption to the body's normal metabolic functions, even interfering with basic cell processes. We'll discuss that next time.
Issels Integrative Oncology uses beneficial immunotherapy to restore healthy, natural metabolic and cell function. To find out more about integrative immunotherapy, subscribe to our new email newsletter.