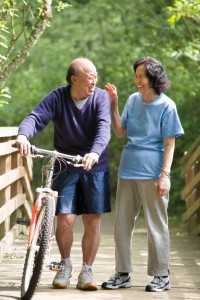 Exercise has long been considered an essential part of a healthy lifestyle. Recent analysis of past studies involving cancer patients shows that physical activity can have the same benefits for patients undergoing integrative immunotherapy and other treatments.
Can exercise really help cancer patients?
The study, reported by co-authors Dr. Arnaud Vincent and Jasper Gerittsen, was recently published in the British Journal of Sports Medicine. The duo reviewed results of 16 earlier tests comparing the effects of exercise vs. inactivity in cancer patients. In general, those asked to increase their physical activity reported a greater quality of life than those in the control groups.
Improvements ranged from better overall body functioning to higher self-esteem. While exercise schedules varied from two to five times per week, there was no significant difference in results for patients with the greater frequency of sessions. One notable finding showed that patients who began exercising during treatment enjoyed both physical and mental benefits, while those who started after treatment saw only physical improvement.
Adding regular physical activity
Doctors and patients alike often believe that cancer treatment calls for more periods of rest, but this analysis may lead to a new perspective. Dr. Vincent explained that the spectrum of physical activity is wide enough to allow flexibility in adapting exercise appropriate for patients restricted to wheelchairs or beds.
Lifestyle is an important consideration in developing our personalized integrative immunotherapy programs. For decades, Issels® has been a leader in non-toxic protocols that reduce many of the serious side effects associated with traditional treatments. Contact us today to learn more about the Issels® difference.