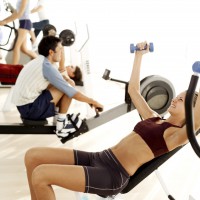 Exercise is an essential component of a healthy lifestyle, especially after a cancer diagnosis. It offers physical benefits such as boosting your immune system while fostering a positive mental attitude that's so important to fighting cancer. Adding resistance training specifically targets some of the changes you may experience during treatment.
Resistance training uses weights, from either equipment or your own body, to supplement exercise moves. Its primary benefit is increasing muscle mass and tone. Cancer patients often lose muscle and gain fat as a side effect of treatment. Practicing resistance training can offset this tendency and help you maintain a better level of muscle tone.
This loss of muscle can be a contributing factor toward the fatigue suffered by patients in treatment. A 2012 study performed by Seattle's Fred Hutchinson Cancer Research Center followed 221 cancer survivors in a 12-week strength training program. Participants showed major improvements in muscle mass along with blood pressure, body strength and flexibility.
Cancer can sometimes contribute to the development of osteoporosis. The disease itself can result in bone weakness, while radiation and hormone therapy can affect bone density. Weight training works your bones in the same way that it works your muscles, making it a powerful weapon against osteoporosis.
While aerobic exercise can be performed on a daily basis, strength training is best when done on a schedule that allows for intervening rest days. It's a good idea to work with a trainer who can help you develop a program for maximum efficiency.
Resistance training benefits the mind-body connection that's such an important part of the integrative immunotherapy provided at Issels alternative cancer treatment centers. Please contact us to learn more our individualized treatment programs.