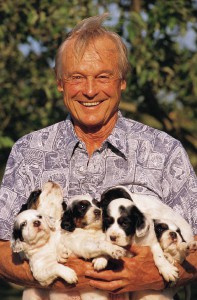 Is there anything more adorable and heart-warming than a four-legged friend who offers unconditional love? Pet therapy has become an increasingly popular means of providing physical and emotional support for cancer patients and others dealing with serious health problems. Mayo Clinic oncologist Dr. Edward Creagan has referred to it as "medication without side effects".
Sigmund Freud was known to use dogs as relaxation aides for his psychotherapy patients, but it's only fairly recently that pets have been used to "treat" those suffering from cancer. Therapy Dogs International and Pet Partners, the two earliest animal-assisted therapy groups, date back to the mid-1970s.
Cancer patients who receive visit from therapy pets have demonstrated emotional benefits such as lowered stress levels and improved moods. Interacting with the pets can help relieve the loneliness and isolation that often accompanies medical treatment. Some patients have even demonstrated a reduced need for pain medication.
While pets have been known as good companions since the dawn of mankind, researchers have tried to find the specific reasons that pet therapy has proven to be so effective. Studies have shown that visits with pets can reduce the levels of cortisol in the bloodstream. Cortisol is a hormone that produces the "fight or flight" response during high-stress situations. In addition, it can raise the level of endorphins, which are the body's natural pain-relieving hormones.
Pet therapy can provide a valuable boost to your quality of life during cancer treatment. It's a good complement to the integrative approach used at Issels alternative cancer treatment centers. Please contact us for more information.