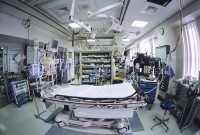 "It is time for drug companies to put helping patients first," says Dr. Carlos S. Moreno. The Associate Professor of Pathology and Laboratory Medicine and Biomedical Informatics at Emory University makes a compelling argument on Reuters.com that it's time large pharmaceutical companies started living up to their stated goal of saving and improving lives. By placing their responsibilities to their shareholders and profit margin over their moral responsibility to better patients' lives, Moreno says Big Pharma is holding back vital cancer research.
At issue are the roadblocks cancer researchers are encountering as they explore new avenues for treating cancer. As Moreno notes, "Researchers … are making remarkable discoveries to help identify new drugs and drug targets for cancer patients. Many new compounds are under investigation, including those that inhibit the growth of cancer cells, block the blood supply to tumors and prevent tumors from evading the immune system."
The sequencing of cancer genomes has allowed the development of advanced targeted therapies and is providing researchers with new insights into how cancer grows and why it returns. As Moreno explains:
"One clear insight we have gained is the likelihood that no single drug will be able to defeat cancer. The reason most cancers become drug resistant and come back is because the DNA mutates quickly. Cancer cells that are not killed by the drugs survive, continue to grow and replace the cells that have been wiped out."
Many cancer researchers have concluded that an integrative approach to cancer treatment is necessary to defeat cancer's ability to mutate and survive. Unfortunately, researchers are finding that their ability to turn new discoveries into therapeutic cancer treatments is being stymied by Big Pharma's constant eye on profit margins.
To be continued