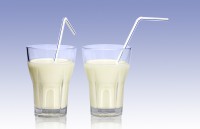 Have you been hearing about the dietary benefits of probiotics? These live microorganisms found in fermented dairy products create a balance of "good" bacteria in your gut. In addition to promoting digestive health, probiotics appear to have properties that serve as protection against cancer.
Simply adding these foods to your diet can reduce problems such as gas and diarrhea while aiding the ability of your immune system to fight tumors.
Yogurt
Yogurt is one of the more publicized sources of probiotics. Look for brands that include "live and active cultures."
Sauerkraut
The pasteurization process kills probiotics, so opt for the unpasteurized variety, which also includes vitamins that help prevent infections. If you like it on the spicy side, the popular Korean dish kimchi has the same properties.
Soft Cheeses
Probiotics are sometimes too fragile to survive in the digestive tract, but certain types found in fermented soft cheeses such as Gouda hold up well.
Kefir
During immunotherapy for cancer, beverages may be easier on your stomach than food. Kefir is a yogurt-like drink that originated with the shepherds in Eurasia's Caucasus Mountains.
Sourdough Bread
The organisms that give sourdough bread its distinctive tang are loaded with probiotics.
Supplements
While probiotics come in convenient capsule, tablet, liquid and powder forms, they lack the additional nutrients provided by foods and beverages. Talk to your doctor before beginning a course of supplements.
Issels®: The Leader in State-of-the-Art Immuno-Oncology
A healthy diet is part of the integrative approach we follow at Issels®. Contact us to learn how our non-toxic immunotherapy for cancer treatment is tailored to accommodate your individual lifestyle, environment and other factors.