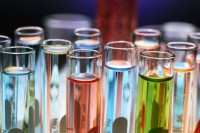 Probiotics are live microorganisms, the "good" bacteria, that live in our digestive tract. Available in foods, notably yogurt and cheese, and supplements, probiotics are believed to not only help mitigate the deadly effects of chemotherapy, as discussed in our previous post; but may also help prevent cancer and slow the growth of cancerous tumors.
The human gut is home to more than 500 strains of bacteria whose primary role is to assist in food digestion and maintain a healthy intestinal tract. But probiotics also seem to play a role in boosting the immune system, aiding it in fighting invasive bacteria and rogue cancer cells.
One of numerous international studies linking probiotics to cancer prevention, particularly colon cancer and breast cancer, an Argentine study concluded:
"Probiotics may suppress the growth of bacteria that convert procarcinogens into carcinogens, thereby reducing the amount of carcinogens in the intestine."
Separate Australian research that supports that finding also found:
"Probiotic bacteria and prebiotics suppress tumour development in animals" indicating a possible similar reaction in humans.
On Heal Thyself, Pat Robinson provides a comprehensive review of research linking probiotics and cancer available on PubMed.gov, the online publication of the U.S. National Library of Medicine maintained by the National Institutes of Health.
Probiotics are classed as a dietary supplement and are not regulated by the Food and Drug Administration. If you are considering adding a probiotics supplement to your diet, choose a supplement made by a well-known company that lists the names and amounts of the specific bacteria it contains. Current cancer patients should talk to their Issels cancer treatment team about including probiotics in their immunotherapy treatment plan.