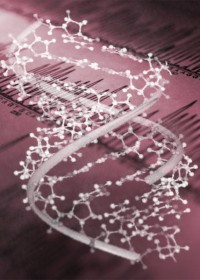 An unexpected link between autism and cancer has been discovered by researchers. While the cause of autism remains unknown in the majority of cases, mutated cancer or tumor genes appear to have caused the brain disorder in a small percentage of people. According to a New York Times review of the new findings:
10% of children with mutations of the PTEN (P-10) gene have autism. PTEN has been linked to breast, thyroid, colon and other organ cancers.
50% of children with the genetic disorder tuberous sclerosis have autism. Tuberous sclerosis has been linked to brain and kidney cancer and brain and organ tumors.
Researchers noted that while the risk is considerably higher than for the general population, not everyone with these genetic mutations will develop either autism or cancer. Yet for those with autism who do have one of these genetic mutations, the discovery opens the door to new avenues of research and potential discovery of a cure. In fact, a clinical trial is already underway to see if autistic children who carry the targeted genetic mutation will respond to a drug used to treat tumors that share that same genetic footprint.
Both cancer and autism involve unregulated cell growth and both genes being studied act to halt cell growth. Genetic manipulation of cell growth is proving to be a fertile field for cancer research and treatment. Issels integrated immunotherapy utilizes targeted cell therapies in our cancer vaccine program to target and manipulate the tumor microenvironment that triggers the progression or regression of cancer. For many of our patients, Issels cancer treatments have resulted in long-term cancer remission.