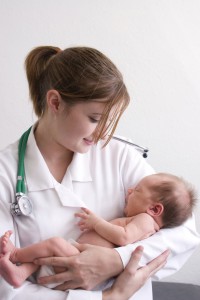 Children born with major birth defects face many challenges as they move through life. A new study adds cancer to the hurdles they and their families must overcome. University of Utah researchers have found that children with certain types of birth defects have a somewhat greater risk of developing cancer, a risk that could impact the 120,000 (3%) of American children born with major birth defects every year.
The study found that non-chromosomal birth defects double cancer risk for children under the age of 15, although risk was greatest during the first 5 years of life. However, increased cancer risk was not universal and was not associated with the most common birth defects. According to study findings, increased cancer risk was limited to specific birth defects: cleft palate, eye defects, microcephaly and certain heart and kidney defects. All of the cancers associated with these birth defects were linked to immature cells that develop in early childhood.
While previous studies have documented increased cancer risk for children with Down's syndrome, which is a genetic birth defect caused by the presence of an extra chromosome, this study focused on cancer risk for children born with structural birth defects unrelated to chromosomal abnormalities. It is hoped that study results will lead to improved treatment and long-term outcomes for children with birth defects.
Traditional medical treatments for children with cancer carry their own risks. As we reported earlier, one study found that children who undergo chemotherapy have a high risk of developing life-threatening chronic diseases during their adult years. Issels' integrated immunotherapy cancer treatments offer effective alternatives to chemotherapy and radiation.