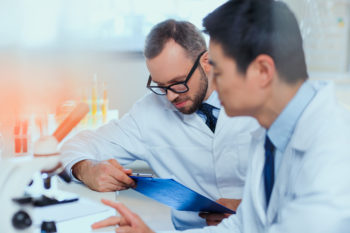 One of the challenges doctors face with cancer treatment is designing a program to meet a patient's unique needs. Immunotherapy for cancer is helping to provide solutions to this problem, such as recent improvements to dendritic cell vaccines.
Immunotherapy: Priming the Body's Immune System
While the body's immune system is extremely capable when it comes to fighting viruses, bacteria and other invaders, cancer cells often demonstrate a remarkable ability to evade detection. Immunotherapy works by enhancing the immune system's power to target and destroy cancer cells.
Dendritic cells are one of the immune system's "messengers" that present antigens to killer T-cells for destruction. Researchers in Switzerland began looking for a way to improve the effectiveness of dendritic cell vaccines.
Helping the Immune System Recognize Cancer Cells
Prof. Michele De Palma and his team created artificial receptors known as EVIRs, which are inserted in dendritic cells extracted from a patient. Once reintroduced into the patient's system, the EVIRs are engineered to recognize exosomes that transport molecules between cells, sometimes assisting in the spread of cancer.
As EVIRs capture exosomes, it allows dendritic cells to present antigens on their outer surface, simplifying recognition and attack by killer T-cells. De Palma and his team have dubbed this phenomenon "cross-dressing," and they're hoping that the process will improve the specificity of cancer treatment.
Issels®: A Successful Legacy of Immunotherapy for Cancer
At Issels®, we are exclusively focused on immunotherapy for cancer with patients who have advanced or therapy-resistant cancers. Contact us to learn more about our dendritic cell vaccines and other non-toxic, personally tailored immunotherapy treatment programs.