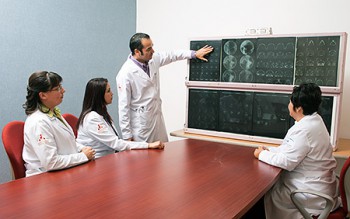 One of the benefits of immunotherapy for cancer is that treatments can often be tailored to address a patient's individual needs. Scientists in Switzerland have now developed a method of modifying dendritic cell vaccines that makes them easier to personalize.
Aiding the Body's Own Immune Response
Dendritic cell vaccines are normally created by force-feeding dendritic cells with tumor antigens. Scientists at the Swiss Institute for Experimental Cancer Research have developed a modification that allows dendritic cells to acquire antigens from a patient's tumor.
Prof. Michele De Palma, winner of the 2017 Swiss Cancer League award, led the team of researchers in creating an extracellular vesicle (EV)-internalizing receptor, referred to as EVIR. The EVIR has been optimized to enhance dendritic cells and their ability to selectively uptake cancer cell-derived EVs.
Antigen-laden exosomes and other extracellular vesicles are released by tumors in sizable quantities. The EVIR helps dendritic cells target the exosomes more precisely and present them to killer T-cells for a more efficient immune response.
Streamlining the Job of Dendritic Cells
De Palma explained the phenomenon of cross-dressing, in which dendritic cells display the acquired antigens directly on their surface. The process simplifies the immune response by eliminating the need for more complex interactions within the dendritic cell itself.
Dendritic Cell Vaccines and Immunotherapy for Cancer at Issels®
Dendritic cell vaccines are only one of the non-toxic cancer treatments available at Issels®. Our individually developed programs are created to maximize the ability of your own immune system to fight cancer.
Contact us to learn more about why Issels® has long been a groundbreaking leader in immunotherapy for cancer.