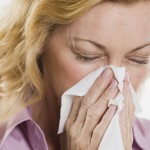 Health officials say the flu season seems to be winding down, but the spring cold season will soon be upon us. Cold and flu season can be a particularly dangerous time for cancer patients whose immune systems are already compromised by their disease. Certain cancer treatments may temporarily challenge the immune system, making cancer sufferers even more susceptible to cold and flu germs. Taking steps to boost your immune system can help your body fight off germs and may decrease your chance of catching a cold this spring.Try these natural methods of boosting your immune system:
Sleep regulates the release of cortisol, a hormone that stimulates the immune system. Sleep isn't always easy for cancer patients but aim for at least 7 hours a night. If sleep is a problem, talk to your Issels treatment team about possible solutions.
Rapid temperature fluctuations activate the immune system. At the end of your shower, alternate 30 seconds of very hot water with 10 seconds of cold and repeat 3 times.
Vitamin D helps regulate the immune system and reduce inflammation. Low vitamin D can increase your risk of catching a cold. Experts recommend taking 1,000 to 1,500 IU of vitamin D per day. Dairy products,  fatty fish like salmon and sunshine are also good sources of vitamin D.
Zinc supports and enhances the immune system and can decrease the duration of colds. Oysters, baked beans and pumpkin seeds are rich in zinc.
Saline nasal sprays, used several times a day, help irrigate and cleanse sinuses of cold germs.