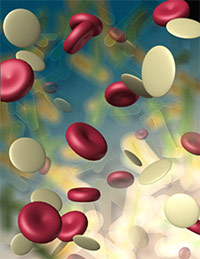 Tumors have a number of ways to avoid detection and attack by the body's immune system, making them difficult to eliminate. In a victory for cancer immunotherapy, scientists have created a synthetic protein with the ability to reverse these defenses.
Overcoming Safeguards of Tumor Cells
Most diseased cells carry proteins called antigens that trigger a response from T cells in the immune system, resulting in neutralization of the threat. In contrast, tumor cells secrete immunosuppressive cytokines, and these soluble proteins disable the immune response from T cells.
Chimeric antigen receptor (CAR) T-cell therapy, which received FDA approval in 2017, has been successfully used to treat blood cancers such as leukemia. Unfortunately, these therapies have not had a similar effect on solid tumors.
Making Cancer Work Against Itself
Building on the principle of CARs and their power to counteract the defenses of cancer cells, a team of scientists at UCLA engineered CARs to respond to soluble proteins along with surface-bound antigens. In effect, cancer's primary weapon ends up acting as an instrument of its own destruction.
Since these CARs are engineered, it opens up the possibility of using this method to create cancer immunotherapy treatments for other applications. The UCLA team has already engineered CARs that respond to various soluble proteins, including transforming growth factor (TGF) beta.
Cancer Immunotherapy: Boosting the Body's Own Immune System
Our individually developed immunotherapy programs focus on restoring the body's immune system and its natural defense mechanisms. These programs are non-toxic, without the adverse side effects that often accompany chemotherapy and other traditional cancer treatments.
Visit our website for more information.