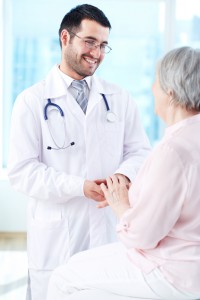 When you're diagnosed with cancer at a later age, there are certain factors to take into consideration when you weigh your treatment options. Find out more about how being in your 60s or older can have an effect on cancer treatment.
Underlying Medical Conditions
Having another medical condition, such as diabetes, heart disease or arthritis, might affect the kinds of medication you can take during cancer treatment. It might also have an impact on the type of treatment you can safely undergo. Your oncologist should talk to your regular doctor about any other health conditions you have in order to provide you with safe and effective treatment options.
Nutritional Concerns
If you undergo chemotherapy for cancer, it can end up causing nausea and fatigue, which makes it more difficult to eat nutritious meals and maintain a healthy weight. Since nutrition is an important part of treatment for cancer, you might need to make arrangements to have someone help with meal preparations. You can also look into treatment options with fewer side effects, such as Issels® immunotherapy.
Daily Tasks and Activities
Some forms of treatment, such as radiation, can leave you with low energy levels and other side effects that make it hard to handle daily tasks and activities. Whether you need help around the house or reliable transportation to and from treatment appointments, make plans to have someone assist you with these errands rather than trying to do them on your own.
If you need more information on cancer treatment for the aged, please contact Issels®. We offer nontoxic immunotherapy for many different types and stages of cancer.