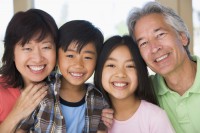 Holidays are often a bittersweet occasion for cancer patients and their caregivers. It's a time of celebration with friends and family, but it can also create nostalgia and even sadness over the memories of previous illness-free holidays.
If you are a caregiver, it's important for both you and your loved one that you maintain an emotional and physical balance. These tips will keep things in perspective so you avoid feeling overwhelmed.
• Be honest about your feelings. It's natural to feel a sense of loss based on the realities of cancer. However, burying those emotions will serve only to intensify them, not eliminate them. Share your thoughts with someone you trust, whether it's a family member or counselor.
• Modify your expectations. You probably demand more of yourself than anyone else does. Scale back your activities or ask for help when it's needed.
•Create new traditions. Sharing time with friends and family is the focus of the holidays, no matter what form it takes.
•Ask your loved one about his or her preferences for celebrating the holiday. You may be projecting your own anxieties on them, and you'll discover that their wishes are simpler than you anticipated.
• Give yourself a pat on the back. You're making every effort to create a special holiday for your loved one and he or she appreciates it more than you know.
As a caregiver for a cancer patient, you should have your own support system for advice and encouragement. Subscribe to our e-newsletter for medical updates and helpful tips on cancer care.