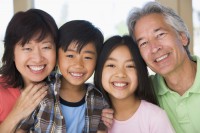 If you have been diagnosed with cancer, sharing information with family members can sometimes be awkward. Loved ones want to be helpful and supportive, but they wait to take their cues from you about how to proceed. Their behavior can go to extremes as they either walk on eggshells or act overly cheerful.
Many patients have found a solution in holding "cancer update" meetings with their families. Here are tips for conducting productive meetings that keep everyone involved.
Make a list of the people you want at the meetings. Include only those who are truly close to you, such as your cancer caregivers. Don't be driven by a sense of obligation.
Decide what you want to share and what you're uncomfortable with discussing. If you have certain hot buttons that trigger your emotions, plan neutral and non-judgmental responses to keep the meeting on topic.
Honest discussions are likely to inspire questions from you as well as your family members and cancer caregivers. Write them down so you can consult your medical team for advice.
Don't try to be noble by refusing offers of help or maintaining a cheerfulness you don't feel. It helps both you and your family if you give them specific ways they can assist you while allowing them to see your true feelings.
Immuno-oncology programs at Issels® are administered by experienced physicians with a history of treating all forms and stages of the disease. Our personalized approach includes addressing any questions and concerns you may have along the way. Visit our website to read and hear testimonials from patients who have benefited from our specialized treatment protocols.