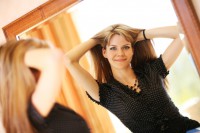 Others may see a cancer patient's bald head as a badge of courage, but hair loss is the chemotherapy side effect cancer patients fear most. Our hair is such an integral part of our self-image that losing it is a traumatic experience.
Not all chemotherapy drugs cause hair loss, but many do. Hair loss typically begins a few weeks after chemotherapy begins and can range from mild thinning to total baldness. Hair usually grows back in 3 to 10 months; but it may be a different texture, fullness or color. Hair may also grow back unevenly, looking thin or patchy.
Why Does Chemo Cause Hair to Fall Out?
Chemotherapy drugs are designed to attack fast-growing cancer cells. Unable to differentiate between cancer and other fast-growing cells in the body — such as hair cells — these chemicals kill everything. And chemotherapy doesn't just affect the hair on your head. Eyebrows, beards and body hair may disappear.
Can You Prevent Chemo Hair Loss?
There is little that can be done to prevent chemo hair loss. Applying minoxidil (Rogaine) to the scalp has not been shown to prevent hair loss but may encourage faster hair re-growth. Scalp cooling is another strategy for preventing hair loss (read one woman's story), but results have been mixed.
The only sure way to prevent chemo hair loss is to avoid chemotherapy. Integrative immunotherapy is a holistic approach to cancer treatment that does not result in hair loss or produce the other painful and dreaded side effects associated with chemotherapy. Working with, not against your body, immunotherapy empowers your immune system to fight cancer naturally. Visit our website to find out more.