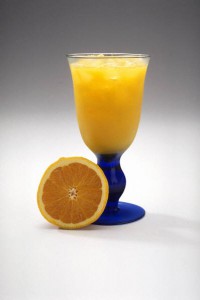 Many people swear by the use of Vitamin C supplements to prevent and cure colds and other common illnesses. Given its health applications, it might come as little surprise that the medical community would explore Vitamin C's possible role in the fight against cancer.
Researchers at the University of Iowa Hospitals and Clinics are studying the effects of large amounts of Vitamin C used in conjunction with other cancer treatments like chemotherapy. Preclinical testing began in 2008 when Vitamin C was used successfully to slow the growth of tumors in mice.
Phase one of the study is currently investigating whether high doses of Vitamin C administered intravenously are safe for humans. So far the treatment has been tolerated by pancreatic cancer patients, and researchers are awaiting the results on patients with brain and lung cancer.
The study has not yet progressed to the point of testing Vitamin C as a method of killing tumors. However, Joseph Cullen, a professor of surgery at UI, said that the preclinical testing with mice showed that Vitamin C seemed to create hydrogen peroxide that attacked and killed cancer cells without affecting healthy ones.
After scientists in the late 1970s had promising results with testing Vitamin C as a cancer treatment, Mayo Clinic performed a study in the 1980s that contradicted the earlier one. Cullen says that the Mayo Clinic focused on oral ingestion of Vitamin C, while UI's tests are using intravenous dosage which allows for higher, more effective levels.
Our immuno-oncology protocols make use of natural, non-toxic treatments for a personalized approach to your specific needs. Contact us to learn more about our alternative cancer treatments.