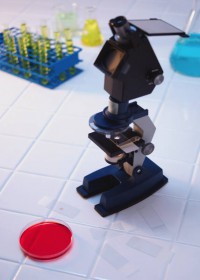 "Promising" is the word British scientists are using to describe early results of a simple blood test that could revolutionize cancer diagnosis and speed cancer treatment. Developed by researchers at the University of Bradford in the United Kingdom, the Lymphocyte Genome Sensitivity (LGS) test may turn out to be the easy to administer, inexpensive and accurate diagnostic tool the cancer treatment community has been searching for.
How It Works
Named for the type of white blood cell it examines, the Lymphocyte Genome Sensitivity test searches for cancer-related DNA damage in cells that have been bombarded with varying degrees of ultraviolet light.
"White blood cells are part of the body's natural defense system," study leader Professor Diana Anderson explains on the University's website. "We know that they are under stress when they are fighting cancer or other diseases, so I wondered whether anything measurable could be seen if we put them under further stress with UVA light. We found that people with cancer have DNA which is more easily damaged by ultraviolet light than other people."
What It Means
The ability to diagnose cancer with a blood test that measures immune system response would decrease the need for more costly and invasive tests and biopsies. In early testing, UV damage to white blood cell DNA was able to accurately differentiate between healthy, pre-cancerous and cancerous cells. DNA damage to white blood cells became measurably more pronounced as cancer developed and advanced.
The test underscores the connection between the immune system and cancer development. By strengthening the body's immune system, Issels integrative immunotherapy has helped many of our patients achieve complete long-term remission of advanced and therapy-resistant cancers.