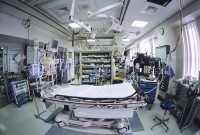 A new payment method for treating certain types of is cancer being tried by the country's largest health insurer. UnitedHealth Group (UNH) has announced they will soon launch a pilot program with Houston based MD Anderson Cancer Center. Rather than multiple fee-for-service payments, UNH will pay the cancer center a single bundled payment for treatment of head and neck cancer.
Eliminate billing inefficiencies
The innovative payment plan is to last for three years. Studies have shown that paying several individual fees for testing, radiation, surgery, and chemotherapy cost more than the bundled payment method. UNH believes they can eliminate cost brought on by bureaucratic red tape and give both doctors and patients a better idea what the treatment will cost before it is underway.
Better coordination among doctors
Cancer treatment and related drug cost account for about 11 percent of UNH's health plan expenditures. While treatment of head and neck cancer is a small part of that, it does involve physicians of various specialties. They will have to work together more closely under the bundled payment plan. If the pilot program does prove successful, UNH plans to expand it to the treatment of other types of cancer.
Our Approach is Different
These are just two of the many types of cancers that Issels® Integrative Immuno-Oncology has successfully kept in remission for thousands of patients. Without the problem of bundling by such as by some providers, Issels® is able to provide the treatment that you need instead of a "cookie cutter" approach.
For more information about the highly personalized treatment protocols, non-toxic cancer vaccines, and cell therapies used by Issels® Integrative Immuno-Oncology, contact us today. Our therapies are based on 60 years of successful cancer treatment and extensive scientific research.