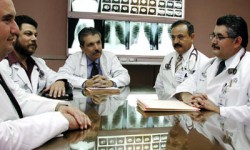 Cancer patients receiving the best medical care can still be left fending for themselves in coping with pain, stress and other auxiliary effects of treatment. A bipartisan bill introduced in Congress this past July aims to ease their burden by making palliative care more widely available.
This specialized form of care is centered on improving quality of life for patients dealing with cancer or other life-threatening diseases by helping them manage chronic symptoms associated with their illness and its treatment. Palliative care also reduces overall stress by allowing patients to be proactively involved with their healthcare team in determining the course of treatment and setting goals.
Public opinion research discovered that 70 percent of Americans are not even aware of palliative care. The Palliative Care and Hospice Education and Training Act, introduced by New York Representatives Eliot Engel and Tom Reed, aims to reduce that statistic.
The bill provides for expanded federal research into palliative care along with corresponding training for allied health care professionals. It also calls for the establishment of a nationwide awareness campaign centered on educating the public about palliative care and its benefits for patients and their families.
Palliative care can be initiated for patients of any age at any stage of their illness. According to research supported by the American Cancer Society, palliative care reduces the amount of time patients spend in intensive care while allowing them to experience greater quality of life.
The personalized therapies you receive at our Issels® immuno-oncology centers include compassionate physician treatment that extends to your aftercare. Contact us for more information.