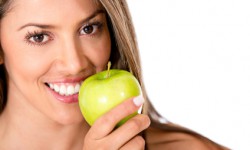 Here's another reason to start eating right: a new group of scientists are looking more closely into specific molecules within fruits and vegetables called flavonoids, which show promise in reducing the risk of breast cancer. Flavonoids are molecules within fruits and vegetables found to have health and antioxidant benefits. One type of flavonoid in particular, called luteolin, is being studied for its significant benefit during hormone replacement therapy in women.
Luteolin is a plant compound that has many biological benefits such as anti-inflammation, anti-allergy and anticancer. It's used in Chinese traditional medicine for treating multiple illnesses such as hypertension, inflammatory disorders, as well as cancer. Luteolin acts by suppressing cancer cell survival pathways, and inducing other pathways that promote cancer cell suppression.
The researchers sought to uncover luteolin's effect on breast cancer cells and animal test subjects. They observed a reduction in tumor growth and regression in the cancer cells as luteolin blocked the cells from progressing, similar to another flavonoid called apigenin. According to the researchers, luteolin is more effective, because it has a low probability of metabolizing into a toxic compound.
The researchers stated that luteolin can be effective if it's injected directly into the blood stream, and may one day in the future be able to be used as an IV compound.
There is still much to be learned about the many valuable components that can be derived from fruits and vegetables, such as flavonoids, which could one day lead to the discovery of new medicines. That's a future worth looking forward to. For more information on cancer care and non-toxic treatment, contact Issels®, your Integrative Immuno-Oncology experts.