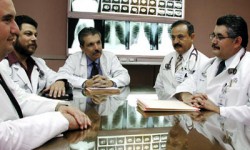 Next week in November we celebrate Pancreatic Cancer Awareness Month. Did you know that in the U.S. pancreatic cancer comprises just 3 percent of cancer cases, yet it accounts for 7 percent of fatalities? For those affected by the disease, information and support can be harder to find compared to more common forms of cancer.
When Herb Kosten passed away in 2003, his family decided to form an organization to provide support and awareness for pancreatic disease in the Memphis area. The foundation has also provided half a million dollars in research funding to a local university.
As the late Kosten's brother Alan says, the family could find no information about pancreatic cancer besides what the doctor told them.
As proponents of individualized care and integrative immuno-oncology, we at Issels® support the idea that fighting cancer takes groundbreaking research as well as a holistic approach to patient care. In addition to funding research at the University of Tennessee Health Science Center, the Herb Kosten Foundation hosts a support group for patients and family members. As the only pancreatic cancer support group within hundreds of miles, this provides a major source of comfort and empowerment to people who need it.
Treatment for pancreatic cancer often involves a difficult surgery that takes an entire day and often leads to complications. With a mortality rate around 90 percent, those affected by the disease seek to rally awareness and support for additional research in the quest for a cure.
At the Issels® Center for Integrative Immuno-Oncology, we continue to seek and improve personalized non-toxic treatments for pancreatic cancer and other aggressive forms of the disease. Contact us today to find out about our non-toxic treatments that combine immunotherapy and other alternative options available.