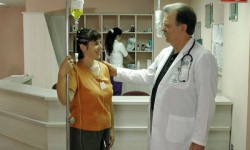 Pancreatic cancer can be difficult to treat with conventional methods, such as chemotherapy. With this form of cancer on the rise, researchers have been working on developing other forms of treatment that might be more effective. Recent developments have led to a new type of treatment for pancreatic cancer that is showing promise as a highly successful way to boost survival rates.
Irreversible Electroporation
Researchers have come up with a treatment that delivers small yet strong electrical bursts that destroy pancreatic cancer cells, which is known as irreversible electroporation (IRE). These electrical bursts create holes in the cells, which leads them to die off. The use of this type of treatment has been associated with a survival rate that nearly doubles for those who also undergo a traditional form of treatment, such as chemo-radiotherapy. IRE is able to affect cancer cells while leaving noncancerous tissue around those cells unharmed, which can lower the risk of side effects and complications.
Researchers are planning on testing IRE in clinical trials to better determine its effectiveness for those with pancreatic cancer. The current study that was conducted involved 200 adults who were diagnosed with Stage III pancreatic cancer. While roughly half of those participants ended up with complications after undergoing IRE, these effects were considered minimal. Researchers found that the average survival rate for study participants was two years, although some lived for up to seven years.
If you would like more information on our non-toxic forms of treatment for pancreatic cancer, please contact the Issels® Center for Integrative Immuno-Oncology. We offer immunotherapy and other types of alternative cancer treatments.