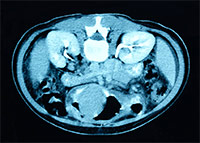 The collaborative efforts of a multi-institutional study published by JAMA Oncology is changing prostate cancer treatment protocols. Potential prostate cancer patients may no longer need to line up for biopsies. Instead, MRI-based prediction models are offering a new risk assessment option.
Bye-Bye Biopsy
In the study, researchers from the National Cancer Institute, University of Chicago, and University of Alabama at Birmingham found evidence that the inclusion of an MRI for prostate cancer patients can be used as a biomarker to decrease unnecessary biopsies. It was also determined that the MRIs helped maintain a high rate of diagnoses for clinically significant prostate cancers.
Hello MRI
Based on the data collected, the research points to MRI-based models as further offering the benefit of lower false-positive rates than the baseline model. This means 18% fewer men would be subject to unnecessary biopsies subsequent to false-positive diagnosis.
Next Destination: Improved Cancer Treatment
Co-Author of the study, UAB Department of Urology Assistant Professor and UAB Comprehensive Cancer Center Associate Scientist Soroush Rais-Bahrami, M.D., points to the data's far-reaching implications. The imaging biomarker is expected to optimize patient selection, as well as allow for the more accurate determination of risk factors and stratification.
What's more, it will provide physicians with the opportunity to potentially reduce prostate cancer morbidity by enabling a more timely and accurate diagnosis, and thus a faster, more individualized treatment response for prostate cancer treatment patients.
Looking for an alternative approach to cancer treatment? Issels® has you covered. Contact us to learn more about our individualized, non-toxic immunotherapy options. Bring your body back to health with the help of Issels® today.