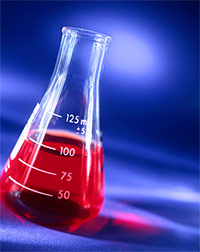 Cancer researchers have been successful in using the body's own immune system to deliver killing toxins directly to cancer cells to kill them. In what Duke Cancer Institute researches describe as "smart bomb" therapy, they have designed an antibody that binds only to certain breast cancer tumor cells, delivering its toxic payload directly into tumor cells while leaving healthy cells untouched and intact. The innovative cancer cell therapy effectively kills cancer cells from the inside out.
Lead Duke researcher, Dr. Kimberly Blackwell, director of Duke's breast cancer program, reported at the recent annual meeting of the American Society of Clinical Oncology that the new smart bomb therapy was successful in use on patients with advanced and metastic breast cancer. Using targeted cell therapy to deliver toxins to a specific target spared patients many of the debilitating side effects typically associated with chemotherapy. (Click here for therapy specifics on Time.com.) Currently, the Duke therapy only works on HER2-positive breast tumors, but Blackwell and her team hope to expand the treatment's effectiveness to other tumors.
Cancer cell therapy is considered one of the most promising developments in immunotherapy cancer treatments. However, Dr. Blackwell believes that targeted cancer cell therapy could prove most effective when combined with integrative immunotherapy that strengthens the entire immune system. She told Time she believes her smart bomb therapy was so effective "because we spared the immune system." Her goal is to create immune-assisted cancer treatments that harness the power of the immune system to fight cancer without weakening that system with chemotherapy, eventually phasing out chemotherapy altogether.
"I'm convinced that my patients' immune systems are fighting cancer as much as anything we can give them to battle the cancer," Dr. Blackwell told Time.
For more than 60 years, Issels' cancer treatments have pioneered the use of integrative immunotherapy and targeted cancer cell therapy to fight advanced-stage cancers with unique success.